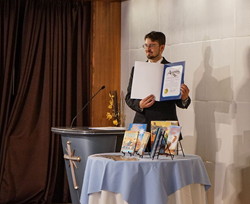 No matter the problem, something can be done about it.
(PRWEB) March 24, 2015
The Church of Scientology Los Angeles hosted a disaster preparedness open house and expo February 28 where volunteers learned the basics of how to respond in times of emergency, and organizations from throughout Los Angeles had the opportunity to network with one another, learn the services each has to offer and increase their ability to respond to the needs of the community.
Recent decades have been characterized by a significant increase in the economic and social damage caused by disasters. According to the Global Humanitarian Assistance Organization Disaster Risk Reduction Report, in the 10 years from 2000 to 2009, more than 2.2 billion people worldwide were affected by 4,484 natural disasters. These disasters killed close to 840,000 people and cost at least $891 billion U.S. To lessen the impact of disasters, the UN Office for Disaster Risk Reduction urges every part of society—government, professional and private sector—to become involved.
To bring together the many different community initiatives operating in Los Angeles to share information and learn more about what people can do in times of disaster, the Los Angeles Volunteer Ministers hosted a disaster response expo and open house 28 February.
The day began with an expo where the American Red Cross of Greater LA and eight other community and civic organizations set up booths to provide attendees with information on their programs and the basics of preparedness.
A seminar on how to prepare for "The Big One" was presented by a Los Angeles Fire Department captain.
The Scientology Volunteer Ministers of Los Angeles were presented with a Certificate of Appreciation from the California Assembly. These volunteers have responded locally to help firefighters cope with arduous conditions combating Southern California brush fires and other disasters. They traveled to New York to help rescue workers at Ground Zero after 9/11, and responded to other disasters such as Hurricanes Katrina and Rita, the 2005 South Asian tsunami, the massive 2010 Haiti quake and the 2011 Japan earthquake and tsunami.
World Civil Defense Day was established in 1990 to bring attention to the vital importance of civil protection; to raise awareness of preparedness, prevention and self-protection in times of disaster; and to pay tribute to the efforts, sacrifices and accomplishments of those who mobilize to help when disaster strikes.
This year's World Civil Defense Day theme was "Civil Defense, disaster reduction and sustainable development," emphasizing the importance of meeting today's needs without compromising the ability of future generations to live in decent conditions.
Created by Scientology Founder L. Ron Hubbard in the mid-1970s, the Volunteer Minister program is a broad initiative bringing effective physical and spiritual assistance to anyone, anywhere. Expressly intended for use by Scientologists and non-Scientologists alike, anyone of any culture or creed may train as a Volunteer Minister and use these tools to help their families and communities. And all are welcome to do so.
Equipped with effective technology to resolve virtually any difficulty, Volunteer Ministers live by the motto: "No matter the problem, something can be done about it."
To provide more information on this and the other humanitarian initiatives it sponsors, the Church of Scientology International has published a new brochure, Voice for Humanity—Real People, Real Help. To learn more, visit the Scientology website.