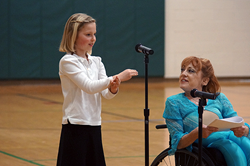 Bath, OH (PRWEB) March 26, 2015
Old Trail School Grade 3 students were immersed in a three-day residency with the Dancing Wheels, one of the premier arts and disabilities organizations in the United States. Dancing Wheels is a professional, physically integrated dance company uniting the talents of dancers both with and without disabilities.
This residency program, Helen Keller: A Tribute to My Teacher, has trained 355 Old Trail School students during the past seven years. This production incorporates lessons about women's rights and disability awareness and includes the children learning sign language and then narrating and performing a dance routine during an hour-long performance for the entire School community, parents and guests.
The Dancing Wheels mission is to educate, advocate and entertain through compelling, innovative dance to enhance integration and diversity in the arts with works uniting people of all abilities; provide successful, independent and creative role models for those with disabilities; erase negative stereotypes about people with disabilities in professional careers, primarily in the arts and instill greater understanding and professionalism in individuals of all ability levels.
Old Trail School is an independent, coeducational day school for students aged two through grade eight. Located in the beautiful Cuyahoga Valley National Park in Bath, Ohio, the School offers a personal, nurturing and academically challenging liberal arts program to students and families in a five-county region that emphasizes excellence in academics, athletics and the arts. For more information about Old Trail School visit oldtrail.org.