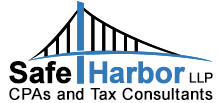 We know that many Bay Area entrepreneurs and small business owners are too busy to keep up with everything tax
San Francisco, CA (PRWEB) March 26, 2015
Safe Harbor LLP, one of San Francisco's top-rated accounting firms for small businesses, is proud to announce that it has released to the general public its March, 2015, client tax newsletter. The newsletter focuses on "tax tips" of relevance to the firm's San Francisco clientele, especially small business owners and startup entrepreneurs throughout the Bay Area.
"We know that many Bay Area entrepreneurs and small business owners are too busy to keep up with everything tax," explained Chun Wong, Managing Director of Safe Harbor LLP. "Our March newsletter builds on our commitment to make it easy to stay informed on tax and financial issues for the San Francisco business community."
To read the March, 2015, tax tips newsletter, please visit http://www.safeharborcpa.com/san-francisco-tax-tips-march-2015/. There, one can download the full newsletter in PDF format, as well as read a summary.
March, 2015, Newsletter Contents
The newsletter discusses the following topics:
Above the Line Tax Deductions – some tips and insights on what's "above" vs. "below" the line, and why that all matters.
Sequence Risk- if one is lucky, one chooses a "good time" to retire, when the stock market is high. If not, not. Sequence Risk is all about timing.
From Relative to Employee - Hiring family members can have tax benefits (but beware of personality conflicts).
Tax Calendar: Upcoming Tax Deadlines for San Francisco Businesses and Residents.
About Safe Harbor LLP – a Professional CPA Firm in San Francisco
Safe Harbor LLP is a CPA firm that specializes in accounting and tax services for individuals and businesses throughout the San Francisco Bay Area and greater California. Safe Harbor CPAs helps both individuals and businesses with tax preparation, IRS audit defense, and audited financial statements. The firm prides itself on friendly yet professional service and utilizes state-of-the-art Internet technology to provide quality customer service.
Safe Harbor CPA
http://www.safeharborcpa.com
Tel. 415.742.4249