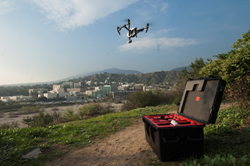 Drone Hangar cases are crushproof, watertight and precision-engineered to protect costly drones from damage.
San Dimas, CA (PRWEB) March 24, 2015
Today, Custom Case Group announced the launch of Drone Hangar, a new line of custom cases for the transportation, storage and protection of areal drones.
At launch, Drone Hangar offers cases with custom interiors that fit DJI's popular Phantom Vision 2 and 2 + series and Inspire 1 drones, and the Align M470. The customized cases are built from industry-leading Pelican cases with custom foam inserts that precisely fit the drones, controllers, batteries and accessories. They also offer a soft bag line for hand carry or local transport.
Drone Hangar also offers a completely custom option for customers looking for cases for drones from other manufacturers, or specific configurations and accessories.
Drone Hangar cases are crushproof, watertight and precision-engineered to protect costly drones from damage. When even consumer and hobbyist drones can cost several thousand dollars, a Drone Hangar case represents a sound investment.
The new division is being launched by the Custom Case Group, a collaboration between Engineered Packaging Solutions and SCS Cases. The Custom Case Group has manufactured reusable cases in use by all five branches of the US armed forces and a range of civilian customers.
"We've been delivering custom cases to the military from their drones and UAVs for years," said Tim Jennings, president of Engineered Packaging Solutions. "With Drone Hangar cases, photographers and hobbyists have access to the same technology and protection."
The interiors of Drone Hangar cases are lined with custom water-jet cut foam cushioning to hold and protect the drones. In addition, most are designed to hold controllers, spare props, tools, batteries and SD cards.
Much like a traditional aircraft hangar, Drone Hangar cases are designed to bring the aircraft and everything else drone pilots need with them to their flying site.
The cases are available to order immediately, online at http://www.DroneHangar.com. Customers can also request quotes for custom configurations or additional drone models at the same website.
"We haven't figured out how to protect your drone while it's flight yet," joked Jennings. "But we can offer the ultimate protection while it's on the ground."
---
About Custom Case Group: Custom Case Group is a collaborative venture between leading custom case distributors, Engineered Packaging Solutions, operating out of San Dimas, Calif., and SCS Cases, operating out of Crystal Lake, Ill. Custom Case Group offers plastic, aluminum and wood composite protective storage and transport cases for a range of industries, including medical, military, aerospace, hazmat, oil and gas, UAV and more.