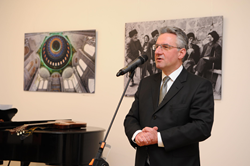 I am very pleased to officially host this TEAS exhibition in Prague and I hope we will continue to develop Czech–European–Azerbaijani relations.
Prague, Czech Republic (PRWEB UK) 24 March 2015
On 23 March, over 250 diplomats, deputies, journalists and celebrities packed the late 19th century neo-renaissance Villa Pellé – one of Prague's most renowned arts and cultural spaces in the diplomatic corner of the city. The opening was organised by The European Azerbaijan Society (TEAS) with official endorsement from the Czech Parliament.
Roman Huna, Head, TEAS Brussels, commented: "It is an honour to bring the beautiful photographic exhibition 'Azerbaijan Through the Lens' to this wonderful venue. This famous exhibition has already travelled to London, Paris, Brussels, Berlin, Brussels, Istanbul and other cities. We are delighted to host this exhibition under the auspices of the Czech Parliament, due to the interest and participation of Jan Hamáček, Speaker of the Parliament."
H.E. Farid Shafiyev, Azerbaijani Ambassador to the Czech Republic, commented: "It is a great pleasure to present this wonderful exhibition, and I would like to thank TEAS for its organisation. It is important to raise the profile of Azerbaijan in the Czech Republic and to encourage the Czech people to understand more about my country. These stunning photographs represent the scenery, architecture and people of Azerbaijan. My country is very diverse, and it is developing dynamically.
"There are excellent Azerbaijani–Czech bilateral relations and we have developed a high level of bilateral political and economic co-operation, demonstrated by the recent visit to the country by Vojtěch Filip, Deputy Speaker, Czech Parliament and Member of the Czech–Azerbaijan Friendship Group. In addition to the political interaction, the cultural elements of our relations are very important. Azerbaijan is open for business – and any ideas for further development of our business relations are very welcome."
Vojtěch Filip, Deputy Speaker, Czech Parliament, Member of the Friendship Group said: "It is a honour for me to open this unique exhibition on Azerbaijan organised under the auspices of the Czech Parliament, and I would like to give you all best regards from the Speaker, Mr Ján Hamáček. I would like to highlight the excellent bilateral relations that exist between Azerbaijan and the Czech Republic, and the fact that there are already many important business investments and activities taking place between our countries. Azerbaijan is a pearl, and for those who have not visited the country, I would like to recommend a visit to Azerbaijan to discover a rich cultural heritage and very warm people who are great friends of Europe, including the Czech Republic. I am very pleased to officially host this TEAS exhibition in Prague and I hope we will continue to develop Czech–European–Azerbaijani relations."
Jan Zahradil, Member of the European Parliament, Czech Republic and Member of the EU–Azerbaijan Friendship Group, commented: "We also have an Azerbaijani Friendship Group in the European Parliament, and I hope it will do much to develop EU–Azerbaijani relations. I have been working with TEAS for some time, and I am pleased to recall that Azerbaijan Through the Lens has already been exhibited in the European Parliament in Brussels. I am delighted that it has now come to Prague, and hope that TEAS will continue to play a major role in Azerbaijani–EU–Czech relations."
Lionel Zetter, Director, TEAS, commented: "This exhibition has been shown across Europe – and this time last year was shown in the Slovak capital of Bratislava, which made it particularly important to bring it to the Czech capital of Prague. The winning photograph – Old Men – by Azerbaijani photographer Asim Talib was taken exactly 30 years ago in the Kelbajar region of Azerbaijan. It would be impossible to take this today, as all those in the photo were very elderly at the time and have probably passed away, and also because this land was occupied by Armenia 23 years ago, and it symbolises the pain of Azerbaijan.
"The top three photos encapsulate Azerbaijan's past, present and future. An important landmark on the future horizon will be Azerbaijan's hosting of the European Games from 12–28 June that will give the country chance to show the world its dynamic economy, friendly and welcoming people, and free and relaxed society."
During the opening, vibrant music was performed by Azerbaijani violinist Dr Sabina Rakcheyeva, Cultural Advisor, TEAS, who was the first Azerbaijani graduate from the Juilliard School in New York. Playing alongside the London-based Deco Ensemble, she performed a range of works by the Argentine composer Astor Piazzolla, Vagif Mustafazadeh and arrangements of Azerbaijani traditional pieces.
23 March–7 April
Azerbaijan Through the Lens
Gallerie Villa Pellé,
Pelléova 10,
160 00, Praha 6