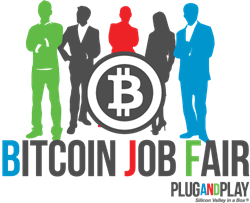 Sunnyvale, CA (PRWEB) March 26, 2015
Coinality and Plug And Play Tech Center are pleased to announce the fourth syndication of the Bitcoin Job Fair will return to Silicon Valley on Saturday, April 18th, 2015. The event will take place in the Tech Center's auditorium from 8:30am to 6:00pm and is expected to draw hundreds of attendees. Several top bitcoin startups including 500Startups, BitGo, BitPay, ChangeTip, ShapeShift, BlockCypher, and Mirror will be onsite to chat with job seekers.
Mike Casey and Paul Vigna, WSJ reporters and authors of "The Age of Cryptocurrency," will also be present to answer questions during a Q&A Panel on Saturday evening.
"Bitcoin has serious potential for job creation. We have seen expansive demand for talent as venture capital continues to support bitcoin companies," said Dan Roseman, Founder of Coinality.
The inaugural Sunnyvale event in May 2014 featured 34 startups and over 400 job seekers. Several top employers were available to discuss open positions with interested candidates, including BitPay, Circle, Xapo, and Kraken.
Subsequent Bitcoin Job Fairs were held in NYC and LA during the second half of 2014.
The College Crypto Network (CCN) will also be organizing a 2-day Bitcoin Hackathon ("BitHack") as part of the Sunnyvale Bitcoin Job Fair. The BitHack event will kick off on Thursday, April 16th and will conclude at the end of the Bitcoin Job Fair on Saturday, April 18th at the Plug And Play Tech Center. Participants in the BitHack will have their choice of 4 APIs to build on top of, including BitPay, ChangeTip, ShapeShift and BitGo. The BitHack is meant to enable remote job seekers an opportunity to exhibit their skill sets for hiring startups in search of developer and engineering talent.
To sign up for the event, visit http://bitcoinjobfair.com/sunnyvale-bitcoin-job-fair-2015
Admission is free for job seekers.
About Coinality
Coinality.com is the leading bitcoin job & resume board where employers and job seekers can connect for job opportunities that pay in digital currencies such as Bitcoin and Litecoin. Coinality.io is the world's first bitcoin freelance marketplace featuring pre-screened freelancers and multisig escrow payments.
http://www.Coinality.com
About Plug And Play Tech Center
Plug and Play Tech Center is a global startup accelerator that specializes in growing tech startups. Headquartered in Sunnyvale, CA, Plug and Play's global network includes 300+ tech startups, 180+ investors and a community of leading universities and corporate partners. From unique industry networking events, education and immersion programs to M&A, Plug and Play has everything tech startups need to get organized, connect and grow. For more information visit:
http://www.plugandplaytechcenter.com