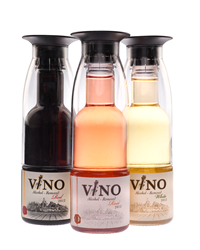 Vino wine is the creation of an all-new beverage category offering a delicious single-serve healthy option with a sleek reusable flute attached.
New York, NY (PRWEB) March 30, 2015
V/NO (Virtually No Alcohol) Wines have a sleek single-serve 187ml packaging that includes a convenient flute for opening/closing and for reuse. Consumers simply twist the cup, turn it upward and pour wine on the go. Health-conscious New Yorkers, professionals, and basically anyone can now enjoy a non-alcoholic wine that is sophisticated yet delicious to kick back socially or pair with meals at work, home, or wherever the occasion should arise.
"V/NO is dealcoholized wine and that means Napa Wine grapes undergo the traditional wine methods of crushing fruit, fermentation and aging. Later, the wine is distilled and put through a gentle reverse osmosis resulting in a beverage that contains virtually no alcohol, less than <0.5% to be exact," remarked Jonathan Canter, COO Vino Beverages.
V/NO is wine without the hangover and is crafted for everyday consumption. This is NOT grape juice though, so move over sodas, sugary fruit beverages and boring water options. V/NO wines not only taste great, but have 1/3 the sugar and half the calories of traditional wine and still include the healthy compounds resveratrol and polyphenols that were found to assist in cardiovascular, anti-aging, and anti-inflammatory health. Vino wines were gluten-free verified via AIB Laboratories, offering gluten sensitive and Celiac Disease consumers a beverage to love every single day. Therefore, V/NO wines belong in every home, office, restaurant, caterer and purse/satchel for those that choose premium, exceptional living since it's non-alcoholic wine.
About 1 out of 5 consumers choose alcohol-free lifestyles, Vino Red, White and Rosé Wine provide a new beverage that's healthier and tastier. If consumers love wine with cheese, nuts, etc then add to a gift basket and head to the park. V/NO wines contain less than <0.5% alcohol signifying it's virtually non-alcoholic per serving yet still tastes like the wine grapes themselves. The days of having a "cheers" of water, coffee or tea is over. Raise a V/NO and enjoy the taste and lifestyle of Napa Valley California daily because it's now possible.
By 2016 the U.S wine market is expected to be $40 billion and the global beverage retail market is over $1.2 trillion. The non-alcoholic beer market is a $2.5 billion industry with an underserved wine segment. V/NO is somewhat similar to the O'Douls product, but V/NO packaging and wine is uniquely positioned to reach a broader demographic. Consumers in their mid 20s through mid 60s have sampled V/NO wines and realized that a wine beverage alternate is indeed for everyone who appreciates a healthy, tasty beverage for anytime.
About V/NO Beverages
V/NO Red, White, and Rosé are premium dealcoholized wines made in Napa Valley, California. Using traditional wine methods, the fruit is crushed, fermented and aged in stainless steel, and just prior to bottling, the alcohol is gently removed by cold filtration, leaving less than 0.5% alcohol. V/NO captures the health benefits of wine and is packaged in a unique and convenient 187ml bottle that doubles as a serving glass. It's time you enjoyed V/NO's wine for anytime.