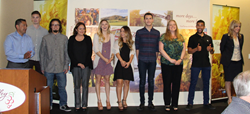 Temecula, CA (PRWEB) March 25, 2015
A Grape Escape Balloon Adventure, Melody's Ad Works, Oak Mountain Winery, and South Coast Winery Resort & Spa were among the fifth annual Xenia Hospitality Award winners chosen from dozens of tourism business nominees and presented at the 2015 Visit Temecula Valley tourism industry annual meeting, March 19. The awards serve to acknowledge the hospitality, generosity, and courtesy objectives Temecula Valley tourism partners aspire to provide to more than 2 million visitors each year.
A Grape Escape Balloon Adventure received the year's overall Xenia Hospitality Award for demonstrating outstanding hospitality to visitors and exhibiting team spirit in promoting growth of Temecula Valley travel and tourism. Cherise Manning accepted the award and recognition for their big-picture view that exposes visitors, groups, media, and television shows to the Temecula Valley in a way that truly promotes tourism in the region. In presenting the award, Tom DeMott, Chairman of the Visit Temecula Valley executive board of directors and General Manager, Temecula Creek Inn Resort, acknowledged A Grape Escape's very active involvement with Visit Temecula Valley, the Temecula Valley Chamber of Commerce, and the Temecula Valley Balloon & Wine Festival. De Mott also shared that A Grape Escape "routinely charts at the top of TripAdvisor, meaning they understand the concept of guest service at the highest level!"
Melody's Ad Works received the Xenia Ambassador Award for generating significant economic impact for the region by working to encourage tourism. Melody Brunsting accepted the award and recognition for her spearheading of many creative and longstanding event concepts over the years including the Old Town Temecula Bluegrass Festival, Old Town Temecula Western Days and Chili Cook-off, Old Town Temecula Street Painting and Plein Air Festivals, and Hot Summer Nights in Old Town Temecula. Brunsting was also lauded for working tirelessly to promote events, resulting in the year-over-year increased attendance of many successful special events.
Oak Mountain Winery received the Xenia Break-Through Award for exemplifying innovation, creating an impact, and causing Temecula Valley to shine. Valerie and Steve Andrews accepted the award, recognition for supporting tourism in the region since establishing the winery in 2005, for what was described as "their literal break-through moments on a daily basis for the past year," and for soon opening one of the next tourism attractions in Temecula Valley Wine Country. Under construction by the Andrews at Temecula Valley's Oak Mountain is the first mined wine cave in Southern California. Rather than expand out to satisfy wine demand, Oak Mountain is expanding into the ground. Wine caves naturally create the ideal conditions for barrel aging and promote better use of the land, as the vineyards continue to grow and thrive above the cave construction. With 11,000 square-feet/3,353 square-meters underground, The Cave at Oak Mountain will include a tasting room in the main subterranean corridor and a unique, subterranean banquet room and event space.
South Coast Winery Resort & Spa received the Xenia Social Media Award for promoting Temecula Valley and successfully attracting visitors. Ricky Casillas accepted the award and recognition for South Coast Winery's share on their social media channels: over 30,000 Facebook followers and 56,000 Twitter followers. South Coast Winery was also praised for utilizing technology to ensure Temecula Southern California Wine Country is on the radar of tourists who seek a unique wine resort experience.
The award-segment of the annual meeting's program began with the Spotlight on Service Awards acknowledging Visit Temecula Valley Board of Directors' monthly program that recognizes front-line hospitality staff for exceptional service. Recognized at the meeting for genuine, anticipatory, friendly, and caring service in 2014 were Kristen Ahern (The Customer Service Experts, Promenade Temecula), Michael Alby (Mimi's Café), Sal Briones (Miramonte Winery), Ashley Browning (The Customer Service Experts, Promenade Temecula), Kendra Danko (Karl Strauss Brewing Company), Penny Delgado (Lorimar Vineyards & Winery), and Vanessa Hernandez (Bed Bath & Beyond), Julio Montalvo (South Coast Winery Resort & Spa), Melissa Perry (Robert Renzoni Vineyards & Winery), Christy Price (Temecula Creek Inn), Ray Roberson (Grapeline Wine Tours), Amanda Roldan (The Habit Burger Grill), Justin Ruiz (Yard House), Ariel Starkweather (Karl Strauss Brewing Company), Daniel Villalobos (Crush & Brew), and Dan Vyse (Annie's Café).
The Welty Award for Tourism Professional of the Year acknowledges the namesake, pioneering Welty family who built one of the first hotels in the heart of Old Town Temecula in the late 1800's. The award recognizes the importance of the collaboration between Visit Temecula Valley and the Temecula Valley Chamber of Commerce with regard to tourism, and significant contribution to tourism through innovation, inspiration, and industry leadership. Presented at the Temecula Valley Chamber of Commerce Gala in February by Visit Temecula Valley, Peg and Jimmy Moore received the Welty Award for their instrumental involvement in the City of Temecula incorporation process and their ongoing involvement in numerous civic activities and organizations.
At the Visit Temecula Valley annual meeting, board member Jan Smith, of Inland Management Group and Chair of the Hospitality Task Force for Visit Temecula Valley, provided an overview of the organization's hospitality initiatives over the past year. Efforts include continuing to identify exceptional front-line hospitality staff through the Visit Temecula Valley Spotlight on Service program, and facilitating educational workshops such as the "I Love Old Town Temecula" workshop and the second annual Hospitality Day, a Familiarization Tour of the Temecula Valley for front-line hospitality staff.
Smith also explained, "The Xenia Awards were created to recognize outstanding tourism businesses and leaders. Xenia is the Greek concept of hospitality, generosity, and courtesy shown to those who are far from home. This is what we, as Temecula Valley hospitality partners, aspire to provide to our visitors."
A measure of the success of Visit Temecula Valley hospitality initiatives and other tourism marketing and promotion efforts is travel spending that is revenue directly into the local economy by non-resident, overnight travelers and visitors to Temecula Valley. Most recent results reflect a record $651 million that helps to sustain a broad spectrum of Temecula businesses and nearly 6,900 jobs (with earnings of $195.6 million), and is a catalyst for economic opportunity. Of the $651 million local revenue, $244 million was spent for arts, entertainment, and recreation; and $111 million for restaurant dining, while the Temecula hotel industry generated over $54 million in lodging revenue.
ABOUT VISIT TEMECULA VALLEY
Visit Temecula Valley (formerly the Temecula Valley Convention & Visitors Bureau) is the region's official tourism marketing organization and resource for visitors. Visit Temecula Valley is online including a complete daily Events Calendar at VisitTemeculaValley.com; "Temecula Valley Southern California Wine Country on Facebook; and @Visit_Temecula on Twitter. The Temecula Valley Visitors Center is located in Downtown, Old Town Temecula (Third Street and Mercedes) adjacent the Old Town Temecula Parking Garage. For visitor information and assistance, please call 888/363-2852 or 951/491-6085.
*Information is believed accurate but may be subject to change.