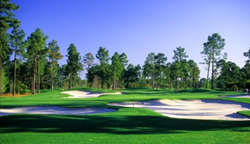 We are thrilled to have our courses recognized alongside many other great tracks in the golf-rich Palmetto State
Myrtle Beach, SC (PRWEB) March 25, 2015
National Golf Management, South Carolina's leading owner/manager of golf resort properties, announced today that a number of its Prime Times Signature Courses have been included in a recent list of the top golf courses in South Carolina by the magazine Golfweek.
Golfweek published its "Best Courses You Can Play" state-by-state rankings in March. The acclaimed publication allocated 15 spots to South Carolina golf courses, with the number 8 spot awarded to Myrtle Beach National King's North, Grande Dunes Resort Club at number 11, and Pine Lakes at number 13.
"We are thrilled to have our courses recognized alongside many other great tracks in the golf-rich Palmetto State," said National Golf Management vice president of marketing and sales, Steve Mays. "It's a point of pride for us to be recognized so often by these publications."
For more information or to book golf at National Golf Management's 19 Prime Times Signature Courses, visit http://www.MBN.com or call (866) 241-5992.
About National Golf Management Company
National Golf Management Company (NGM) is the foremost golf course management company in the Southeast. Formed in 2012 with a merger of Myrtle Beach National Company and Burroughs & Chapin Golf Management, NGM oversees, through ownership and/or management, 19 Prime Times Signature golf courses in and around Myrtle Beach, S.C., one of the world's most popular golf destination markets. This makes NGM one of the largest golf management entities in the United States.
NGM administrates http://www.MBN.com, a leader in online tee time booking, as well as package outlets Ambassador Golf and Myrtle Beach Golf Trips. With the help of MBGolfInsider's 100 percent player-generated course ranking system, thousands of golfers plan and assemble their ideal golf itineraries through NGM, including "top-100 caliber" courses Pawleys Plantation Golf & Country Club, Grande Dunes Resort Club, King's North at Myrtle Beach National Golf Club and more than 80 other Myrtle Beach area courses.
For more information about NGM, visit http://www.nationalgolfmanagement.com or http://www.mbn.com.