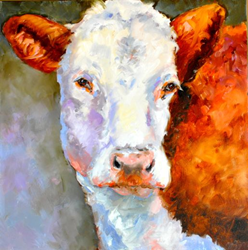 Animal emotions and relationships are not unlike our own
Durango, CO (PRWEB) March 25, 2015
Sorrel Sky Gallery will host a workshop with artist, Linda St. Clair on Painting Animals with Emotion in Durango, Colorado on Friday, April 10 through Sunday, April 12. Participants will focus on putting emotion into your paintings of animals with St. Clair doing daily demonstrations.
Award winning, St. Clair is an innovator who creates animal portraits that explore the personalities of creatures great and small. Raised on a Tennessee farm, she learned the mannerisms and attitudes of the dogs and cows. She's traveled to the North Pole to study polar bears, Africa to observe elephants and zebras, and Yellowstone National Park to watch grizzly bears.
St. Clair says she wants her work to "tell a story, to make us feel a connection with the subject, to remind us all that upon closer inspection, animal emotions and relationships are not unlike our own".
Sorrel Sky Gallery's 3rd Annual Artists Workshop Series is scheduled over weekends to encourage artists to come and stay to the location and enjoy the experience of learning with a master and getting to know the arts community in both Durango and Santa Fe. For more information and to register for a workshop call (970) 247-3555. A complete listing of workshops is available at http://www.sorrelsky.com. Hotel accommodation packages are also available to those traveling.
Sorrel Sky Gallery's fresh approach to Western art presents a select collection of contemporary and traditional fine art and jewelry for the discerning collector. Sorrel Sky Gallery was founded in Durango, CO in 2002 and opened its Santa Fe, NM location in 2014. It represents over 60 painters, sculptors and jewelers including bronze artist Star Liana York, painter Billy Schenck, and former U.S. Senator Ben Nighthorse, among others.