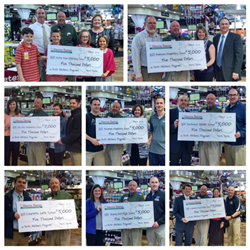 Matthews, NC (PRWEB) March 25, 2015
Store Director Bob Ramsey presented eight local schools each with a $5,000 check, for a total of $40,000, to support Harris Teeter's commitment to both youth wellness and education. All eight organizations are within the Charlotte-Mecklenburg school district and include elementary, middle and high schools.
Schools which received $5,000 during this check presentation:

Ardrey Kell High School (Charlotte, NC)
Ballantyne Elementary School (Charlotte, NC)
Charlotte Latin School (Charlotte, NC)
Community House Middle School (Charlotte, NC)
Elon Park Elementary School (Charlotte, NC)
Endhaven Elementary School (Charlotte, NC)
Mckee Road Elementary School (Charlotte, NC)
Southwest Middle School (Charlotte, NC)
This $40,000 donation is part of a $100,000 donation Harris Teeter has committed to 20 local schools in an effort to encourage active lifestyles among students. Through this partnership, the company worked with each school's administration teams to design unique plans to fund programs which promote physical activity. Programs included playground improvements, new weightlifting and gym equipment and athletic field enhancements.
"Harris Teeter is excited to further its commitment to youth wellness as well as education," said Danna Jones communication manager for Harris Teeter. "Active lifestyles and education are fundamental for the development of our youth, and Harris Teeter is happy to play a role in encouraging both."
In addition to this $5,000 donation, seven of the eight schools received their Together in Education (TIE) second payout. TIE is a fundraising initiative through which schools can earn unlimited funds based on purchases made by shoppers whose VIC card that is linked to their specific TIE code. In order to receive a check, schools must have accrued at least $250 by the end of the second payout period which ran from Dec. 1, 2014 and Feb. 28, 2015.
Harris Teeter will celebrate the remaining 12 schools that have been granted a $5,000 donation with separate check presentations scheduled to take place throughout the month of March.
Harris Teeter, with headquarters in Matthews, N.C., is a wholly-owned subsidiary of The Kroger Co. (NYSE: KR). Harris Teeter reported 2013 sales of $4.71 billion. The regional grocery chain employs approximately 26,000 associates and operates stores in North Carolina, South Carolina, Virginia, Georgia, Tennessee, Maryland, Delaware, Florida and the District of Columbia.