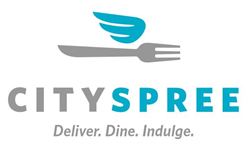 We want to be the preeminent service to provide quality restaurant food anywhere our customers desire.
Fort Myers, Fla. (PRWEB) April 01, 2015
Premium restaurant delivery service now has a new name: CitySpree.
CitySpree will replace GoWaiter.com in 15 markets across the nation, with plans to open another dozen locations in the next year.
The new brand reflects that the restaurant delivery service company is taking a fresh approach to providing dining and delivery options to hungry customers across the country.
CitySpree President Tony Ceppaluni said the company is positioned to be a leader in providing the critical last mile of the delivery business.
CitySpree's growth goes beyond exceptional delivery; the company will be a major player in technology and the production of critical media resources to serve both restaurants and diners.
"Our rebrand reflects a new direction for this company – one based on superior service and cutting-edge technology,'' said Ceppaluni."The restaurant delivery service is a very fragmented sector of the restaurant industry. We want to be the preeminent service to provide quality restaurant food anywhere our customers desire.''
The rollout of CitySpree will take place over the next several months. The brand conversion will be complete by mid-summer. However, customers will be able to find links and instructions on the GoWaiter website even after the transition.
CitySpree offers cost-effective options for people looking to start their own business and proudly welcomes veterans. For franchise information, please go to http://www.cityspree.com or call 877-285-6178.
About CitySpree
CitySpree, headquartered in Fort Myers, Florida, provides its customers with the ability to order from their favorite restaurants and have it delivered for a business lunch, catered event, hotel or your front door at home. CitySpree has opened more than 15 franchise locations in Florida, Georgia, Alabama, Colorado, Tennessee, Maryland, Virginia and Mississippi. CitySpree is opening new markets regularly. Franchise applications are welcome. To learn more, visit http://www.CitySpree.com.