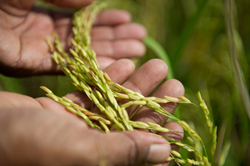 Tackling food security is essential to helping communities lift themselves out of poverty
Washington, DC (PRWEB) March 24, 2015
Global humanitarian organization Mercy Corps applauds the strong bipartisan leadership of Representatives Chris Smith and Betty McCollum in their efforts to fight global hunger and promote food security with the introduction of the Global Food Security Act (GFSA) (HR 1567). With one in every nine people in the world undernourished and trapped in a cycle of hunger, it is vital that Congress support efforts to help vulnerable families access nutritious food and develop sustainable solutions for long-term food security.
"The Global Food Security Act lays out the U.S. government's policy to promote global food security and mandates a comprehensive strategy for addressing one of the greatest challenges of our time – fighting hunger," says Andrea Koppel, Vice President of Global Engagement and Policy for Mercy Corps. "Thanks to Congressional anti-hunger champions like Representatives Smith and McCollum, Congress has taken the first important step in building support for addressing the underlying causes of global hunger."
The GFSA will tackle hunger by mandating a strategy that ensures all relevant parts of the U.S. government are working together to promote food security. Mercy Corps applauds the GFSA's call for integrating resilience strategies into food security programs and urges lawmakers to build the resilience of communities around the world, ensure gender equality and support market interventions that help lift families out of poverty and hunger.
Mercy Corps recommends a holistic approach to boosting food security that recognizes and focuses on:

Gender Equality: Mercy Corps' recent research in the Sahel found that integrating gender sensitivity in programming is a requirement for improving food security.
Inclusive Markets: Development must support markets that can sustain and strengthen communities.
Resilient Communities: Aid effectiveness depends on building the capacity of communities to prepare for, cope with and recover from disasters or crises such as droughts, floods or economic shocks.
"Tackling food security is essential to helping communities lift themselves out of poverty," says Koppel. "It is critically important to take a comprehensive, long-term approach to the complex problem of hunger. Mercy Corps looks forward to continuing to work with Congress and anti-hunger champions to empower communities around the world to feed themselves and improve their lives."
About Mercy Corps: Mercy Corps is a leading global humanitarian agency saving and improving lives in the world's toughest places. With a network of experienced professionals in more than 40 countries, we partner with local communities to put bold ideas into action to help people recover, overcome hardship and build better lives. Now, and for the future. http://www.mercycorps.org.