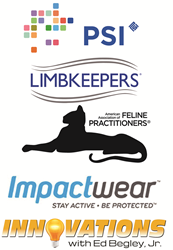 Jupiter, FL (PRWEB) March 30, 2015
DMG Productions announces the upcoming airing of Innovations with Ed Begley, Jr., scheduled to broadcast on Monday, April 20, 2015 at 7:30 a.m. ET and 7:30 a.m. PST, via Discovery Channel.
In this episode Innovations will explore Limbkeepers® non compression knit sleeves, a new solution helping to protect fragile, thinning skin on arms, hands, and legs from abrasion, skin tears and bruising. The show will educate on how their products help reduce injuries, allow for continued daily activities, and maintain quality of life and independence.
In addition, audiences will learn about Impactwear's™ high quality hip protectors for people with osteoporosis, osteopenia and low bone density. The segment will examine how Impactwear™ with SoftShield™ Technology™ provides seniors with the fall protection they need to continue living the life they love.
Innovations will also go behind the scenes at PSI CRO to uncover how the company is able to finish clinical studies on time or ahead of schedule, allowing pharmaceutical sponsors to make conclusion on the effects of their drugs sooner.
Furthermore, Innovations will feature the American Association of Feline Practitioners, which improves the health and welfare of cats by supporting high standards of practice, continuing education for veterinary professionals, and scientific investigation. Specifically, viewers will learn about the AAFP's Cat Friendly Practice® (CFP) designation; a program that provides the tools for veterinary professionals to integrate a feline perspective and embrace the standards needed to elevate care for cats.
"Advancements in science, medicine, and technology have revolutionized the way we live, think, and do just about everything," said Michele Nehls, Producer for Innovations. "We are proud to feature these companies on our show and look forward to airing this episode."
About Innovations & DMG Productions:
Innovations, hosted by award winning actor Ed Begley, Jr., is an information-based series geared toward educating the public on the latest breakthroughs in all areas of society. Featuring practical solutions and important issues facing consumers and professionals alike, Innovations focuses on cutting-edge advancements in everything from health and wellness to global business, renewable energy, and more.
DMG Productions (responsible for creating the Innovations show) includes personnel specialized in various fields from agriculture to medicine, independent films to regional news and more. Our field producers work closely with experts in the field to develop stories. This powerful force enables us to consistently produce commercial-free, educational programming that both viewers and networks depend on.
For more information visit: http://www.InnovationsTelevision.com or contact Michele Nehls at (866) 496-4065 x 822 or via email at Michele(at)InnovationsTelevision(dot)com.