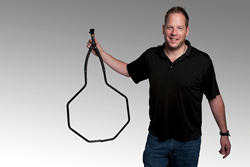 Waterhoop is a new water sprinkler invention for lawn and garden lovers.
Kansas City, MO (PRWEB) March 25, 2015
Products of Innovation, LLC announces the introduction of a new tree and garden watering sprinkler that is designed to save water, time, and money.
Born out of necessity during a severe drought, the Waterhoop™ is a unique, innovative new way to water trees, shrubs, flowerbeds and other hard-to-water places. Waterhoop™ deploys fast, is incredibly simple to operate and is designed to conserve water.
The Waterhoop™ Sprinkler, with its unique water outlet design, onboard water flow valve and easily-configurable design meets the tree, shrub and flower watering needs of hobbyists and landscaping professionals alike by putting the water exactly where it is needed with a constant, completely configurable flow.
Waterhoop™ is perfect for watering evergreens, fruit trees, flowering/ornamental trees, shrubs and other landscaping features where the use of a lawn or soaker sprinkler is a waste of precious resources. Additionally, the Waterhoop™ is an excellent choice for homeowners that would prefer an in-ground irrigation system for their trees and shrubs but lack the funds to install such a costly system. Waterhoop™ can be easily configured, deployed and then re-positioned for proper coverage.
The experts at Products of Innovation, LLC - who spent countless hours researching user needs and developing prototypes - designed, manufacture and market the Waterhoop™ and proudly made in the USA.
Media Contact: Todd Sign
888-211-2127
4850 Sugarloaf Pkwy
Suite 209-215
Lawrenceville, GA 30044
toddsign(at)yahoo(dot)com