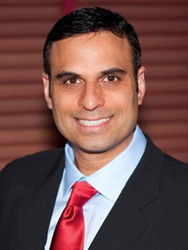 Chicago, IL (PRWEB) March 24, 2015
Leading Oakbrook, IL periodontist, Dr. Amarik Singh of Periodontal Implant Associates recently sponsored an educational opportunity to present the All-on-4™ dental implant technique to a select group of local dental professionals. The event was held on March 3, 2015 at a suite, center court, at a Chicago Bull's basketball game.
Dr. Singh is continually learning about the latest dental prosthetics so he can ensure his patients receive the best care possible. At his most recent meeting, producers of All-on-4™ dental implants were there along with other industry leaders. Dr. Singh uses events such as this one to reach out to other dental professionals in the area. He teaches other dentists about emerging technology through meetings where he puts them in touch with those knowledgeable about the industry.
All-on-4™ is a permanent tooth replacement technique that uses only four dental implants per arch. This minimally invasive option is ideal for patients with missing teeth that have low bone density or volume. The procedure typically does not require bone grafting because the four implants are strategically angled and placed into the patients' healthy bone. All-on-4™ dental implants allow for qualified patients to receive a full set of permanent teeth in one day.
The implants are made with titanium posts that bond with the bone overtime, usually between three to six months. When they have firmly set into place a custom set of permanent replacement upper or lower teeth are fit onto the four posts. The new teeth are designed to fit snugly and remain permanently in place, so there is no slipping or clicking typical of traditional dentures. The look and feel of the new replacement teeth is natural and comfortable, and with proper care, can last a lifetime. In fact, All-on-4™ implants have a 97.8 percent success rate, compared to 93 percent with traditional methods.
Individuals looking for additional information about tooth replacement with All-on-4™ or other services provided by Dr. Singh, are welcome to visit his website at http://www.pidentists.com or call his office at (630) 686-1030. He is always happy to answer questions and to discuss the unique problems that patients experience.
About the Doctor
Periodontal Implant Associates is a periodontal practice offering personalized dental care for patients in Chicago, IL. After graduating from Northwestern University Dental School, Dr. Amarik Singh went on to obtain his Specialty Certificate in Periodontics and earn his Master's from Northwestern University. Dr. Singh is deeply committed to continuing education and prides himself on remaining on the cutting-edge of the newest techniques and technology in dentistry. Dr. Singh is part of an elite group of dental professionals at the forefront of the Chao Pinhole® Surgical Technique (PST®), a revolutionary new approach to repairing gum recession. To learn more about the periodontal services available at Periodontal Implant Associates, please visit http://www.pidentists.com or call 630-424-9404.