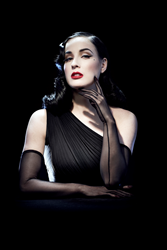 Tucson, AZ (PRWEB) March 25, 2015
Canyon Ranch, the nation's leading health and wellness brand, is partnering with the internationally renowned "Queen of Burlesque," Dita Von Teese, to offer an exploration into sensuality, seduction, and female empowerment including classes in the art of modern burlesque.
With her dazzling haute-couture style, curvaceous Von Teese is credited with bringing the burlesque art form back into the spotlight with a new sense of elegance and sophistication.
From June 8 to 12, Canyon Ranch and the author, model, and fashion designer will team up to present Sensuality & the Art of the Teese with Dita Von Teese – a well-rounded program encompassing everything from beauty workshops to physician-led discussions on the health benefits of sexuality. The emphasis is on self-confidence, personal style, and female empowerment with fun, creative activities including:

BURLESQUE/STRIPTEASE WORKSHOP: Dita will teach a striptease routine focused on basic moves including the classic "Burlesque Strut" and techniques for skillfully removing garters, stockings and gloves. Create your own striptease and learn tips for recreating the magic at home.
HISTORY OF BURLESQUE: Guests will learn about the origin and development of American burlesque. Dita will share historically significant items from her collection of related memorabilia.
DITA VON TEESE FIT STRIP CLASS: Dita will lead the way in the popular Canyon Ranch class with assistance from our talented fitness staff.
BURLESQUE BEAUTY WORKSHOP: Currently working on a beauty book, the best-selling author will offer invaluable tips on how to create a glamourous, burlesque-inspired look.
Canyon Ranch is a safe and nurturing environment for guests to let go of their inhibitions and embrace an important, and often neglected, part of one's health: sexuality. Dr. Nicola Finley, who specializes in women's health at Canyon Ranch will be offering discussions on sexual health as part of the program.
"At Canyon Ranch we take a fully integrated approach to health and wellness. Respecting and nurturing one's sexuality is an important element of living a full and happy life. There is mounting evidence that human touch is healing and that a fulfilling sexual life can be an integral part of one's overall health," commented Dr. Nicola Finley, Canyon Ranch Staff Physician.
Dr. Finley's lectures include:
NOT TONIGHT HONEY I HAVE A HEADACHE: Dr. Nicola Finley's lecture exploring the physical and emotional factors that impact women's sexual desire and arousal during all stages of life. Integrative ways to optimize female sexual function, both before and after menopause, are discussed.
DANCING FOR OPTIMAL HEALTH: Dr. Nicola Finley's lecture where guests learn about the mind-body connection and movement as meditation. Guests discover how dancing, social connections and having fun are important for one's overall health, weight loss, creativity, sensuality and memory formation.
For more information about Canyon Ranch and reservations, please visit http://www.canyonranch.com/tucson or call 1-800-742-9000.
About Dita Von Teese:
Internationally renowned as the Queen of Burlesque, Dita Von Teese has performed at exclusive events and parties for Victoria's Secret, Christian Louboutin, Marc Jacobs, Cartier, and Louis Vuitton among others. This "Burlesque Superheroine" (Vanity Fair) is known globally for her retro-glamour style, and has appeared on international best dressed lists all over the world. Von Teese has recently expanded into her own brands including lingerie, which launched in the U.S. this year exclusively at Bloomingdale's, and is now available at multiple retailers. In addition, she has a Maternity lingerie collection, Von Follies by Dita Von Teese, and an eyewear collection. Von Teese also just completed a sold-out tour of her full-length revue "Burlesque: Strip Strip Hooray!" a 90-minute burlesque spectacular. Currently, Von Teese is working on an autobiographical documentary project about burlesque, fashion, and all things Dita Von Teese. For additional information on Dita Von Teese, please visit http://www.dita.net.
About Canyon Ranch
Canyon Ranch pioneered the evolution of the wellness lifestyle and has been an industry leader for 35 years. Operating the world's most celebrated collection of life-enhancement properties, Canyon Ranch has destination health resorts in Tucson, Ariz., and Lenox Mass. In addition, Canyon Ranch operates a SpaClub at The Venetian & The Palazzo in Las Vegas, Nev., Canyon Ranch SpaClub at Sea onboard Cunard's Queen Mary 2 luxury ocean liner, the eight ships that make up Oceania and Regent Seven Seas Cruises, and on Celebrity Cruises. The newest Canyon Ranch venture, Canyon Ranch Bintan, is a resort and living community within the Treasure Bay development in Indonesia, slated to open in 2016. Canyon Ranch has been named the "Healthiest Spa in America" by Health magazine as well as the "Best Spa for Food" by Gourmet magazine. Recently Canyon Ranch received SpaFinder, Inc.'s Crystal Award for Favorite Wellness Travel Property in North America. Additionally, Canyon Ranch is a 13-time winner of Travel + Leisure's Best Spa Award and an 11-time recipient of the Condé Nast Traveler Best Destination Spa Award. http://www.canyonranch.com