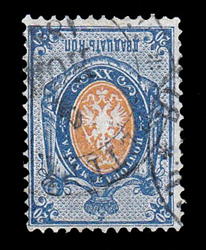 Research shows only 3 examples of this great Russian Empire stamp have ever been recorded.
Danbury, CT (PRWEB) March 25, 2015
An overseas client of the firm recently held a conversation with Laurence Gibson of Kelleher's, stating that while sorting a recent auction purchase from a European firm comprised of used classic Russian Coat of Arms issues, he discovered something extraordinary among the 20 kopeck value of the 1875 issue. While sorting for paper types, he happened upon a variety listed in Scott as the "crossed-shaped 'T' in bottom word" for "twenty" variety. He was happy to find this item, as he maintained that this variety is far more scarce that it's currently listed valuation indicates.
Then came the real surprise. Upon further inspection, he noticed, much to his shock and delight, that the center was inverted. Preliminary research by the firm showed only 3 examples of this great Russian Empire stamp have ever been recorded. The next step would be to get the stamp into the hands of the most widely respected authority for Russian stamps, Paul Buchsbayew of New York City, for his esteemed opinion.
The results could not have been better. Mr. Buchsbayew noted that the stamp was free from any defects and was genuine, further noting in his expertizing certificate: "A great rarity from Imperial Russia, one of only four known (to me) inverted centers of this value; obviously unique error with the plate flaw variety". The stamp therefore, shows a combination of Scott No. 30a-b, and is unique. The basic inverted center variety carries a current Scott catalog value of $85,000.
Within days of the discovery of the rare Russian invert, yet one more huge discovery was made by the Kelleher firm. Though the source of the following major rarity cannot be revealed by the Kelleher firm because the original owner does not wish a name to be released, Larry Gibson remarks, "The China Large Dragon cover is a true discovery—having rested for many years in a collection the owner of which did not know about the full significance of it."
The China Large Dragon Cover ("cover" is the philatelic term for an envelope used in the mails) from Peking to Tokyo in 1884, written by Saburo Yokata to Kuniomi Yokata, Minister of Justice in Tokyo, Japan, endorsed "Tokio Japan" on front, franked with Japan 5s blue New Koban stamp canceled by a crossroads-shaped obliterator along with "Shanghai 19 MAR 1884 I.J.P.A." datestamp imprint. Reverse of the cover shows China 5ca chrome yellow Large Dragon on thick paper, smooth perforation issue, canceled by one complete and one partial strike of Peking, China seal in blue, with matching "I.G. of Customs MAR 10 84 Peking" datestamp alongside, next to the 5ca stamp, which shows a partial second strike where a 1ca stamp was affixed, then lost in transit. Interestingly and quite amazingly as well, is that exactly where the 1ca would have appeared, a Tokyo (Meiji) 17.3.22 double circle date stamp appears, tying the 5ca Dragon! Estimated value: $50,000 - $60,000US.
Mr. Gibson states: "This 1884 China cover is truly remarkable for several reasons. In Jame B. Whang's authoritative A Comprehensive Illustration of the Covers of Chinese Large Dragons, the author notes 'Large Dragons addressed to destinations in Japan are extremely rare, so far only two are known.' Secondly, according to Whang, this cover would now represent the earliest known cover charged according to the new 6ca rate to the U.S. or Japan. Thus, a huge find and a rarity of high significance.
Both the Russian invert and the China Large Dragon cover will appear at auction later this spring; the Russian invert in a Daniel F. Kelleher public auction in the United States—while the cover will be auctioned in Hong Kong by Kelleher & Rogers Fine Asian Auctions, the firm's Asian division.