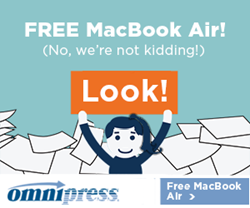 We're so confident you'll love your Omnipress experience, we're willing to give you an incentive to try us.
Madison, WI (PRWEB) March 25, 2015
Omnipress, provider of educational content solutions for associations, is pleased to announce its spring promotion. When an association partners with Omnipress for its 2015 conference content, it will receive an incentive, worth about $1,000.
Omnipress offers many tools to help associations prepare content for their annual meetings and conferences, all of which count towards the spring promotion. To select speakers for the conference, many associations count on Omnipress' online abstract management and paper collection system. To deliver conference content to attendees, associations can use any or all of the outputs Omnipress offers: conference printing, online conference materials, conference apps, USBs, and CDs.
To qualify for the spring promotion, an association must sign a proposal for abstract management and/or outputs with a total value of at least $15,000 by June 30, 2015. Final invoicing must be completed by December 31, 2015.
If all of the qualifications are met, the association can choose one of four incentives:

11" Apple Macbook Air
Dell XPS 13 (Non-Touch)
Two airline vouchers ($500 each)
$1,000 off the Omnipress project
"Omnipress has been helping associations with conference content for nearly 40 years," said Steve Manicor, Omnipress' Vice President of Business Development. "We owe our success to these organizations, and we'd like to take this opportunity to help other associations become even more successful by giving them another reason to work with us."
The Omnipress team is committed to the success and integrity of its conference content solutions. "We're so confident you'll love your Omnipress experience, we're willing to give you an incentive to try us," said Tracy Gundert, Omnipress' CEO. "Some associations know Omnipress by name, but haven't worked with us. If there has ever been a time to take the next step, that time is now."
To learn more, visit the spring promotion page. More information can also be found on The Big Ideas Blog, as well as Omnipress' social media pages and feeds on LinkedIn, Twitter, and Facebook.
About Omnipress
Omnipress helps organizations collect, produce, and deliver educational resources for attendees, learners, and members.
Products Include:
--Abstract Management and Paper Collection Systems
--Conference Printing
--Digital Publishing Platforms
--Online Conference Materials
--Mobile Apps for Conferences
--Poster Printing, Fulfillment, & Online Access
--CD & USB Production
--Continuing Education Training Print on Demand & Order Fulfillment
--Inventory Management of Continuing Education Training
--Online Training Materials
--Printed & Online Publications: directories, standards, policy books, & technical manuals
Our customers rely on us for our nearly 40 years of dedicated customer-service, vast knowledge of associations, and undisputed dependability.
**Apple is not a participant in or sponsor of this promotion. Dell is not a participant or sponsor of this promotion. Omnipress is in no way affiliated with either Apple or Dell.