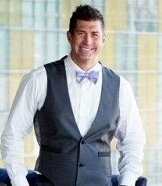 Denver, Colorado (PRWEB) March 31, 2015
Denver Mortgage Broker Mr. Jason M. Ruedy, also known as The Home Loan Arranger, was recently named the #1 Freedom Mortgage Loan Originator in 2014. He surpassed more than 400 other mortgage brokers to win this title not only in his home state of Colorado, but also in the entire nine-state Northwest region.
This is the third year in a row that Mr. Ruedy has been recognized by Freedom Mortgage.
In 2012, Mr. Ruedy was named as the very top producing loan officer in Colorado, where he out-produced companies with multiple loan officers. In 2013, Mr. Ruedy posted a total volume of $27,887,663 and closed 175 loans and was named the #2 Freedom Mortgage Loan Officer in the state of Colorado.
"Being named the #1 Freedom Mortgage Loan Originator for 2014 is a huge accomplishment. I always work exceedingly hard for my clients and I am dedicated to closing loans on time. I thoroughly enjoy what I do and I am dedicated to helping anyone in need of a mortgage - either for a new home purchase or for a refinance. I'm Freedom Mortgage's 2014 #1 Loan Originator for a good reason!" - Mr. Jason M. Ruedy
Mr. Ruedy believes several factors contributed to his success with Freedom Mortgage in 2014. First, he has extensive experience in the mortgage industry and is able to guide each of his clients through the loan process with efficiency. Second, Mr. Ruedy works diligently for each of his clients - always providing quick responses and guidance throughout the loan application process. Third, he is able to evaluate the situations of each of his individual clients and guide each borrower into an appropriate mortgage solution each and every time.
"Jason always sets his goals high and he always strives to be Freedom Mortgage's number one loan originator. He has a dedication to hard work, he offers a superior client service experience to borrowers, and he has a passion to be the best. This all propelled him to the top of his peers in 2014." - Jim Becker, Account Executive, Freedom Mortgage.
About The Home Loan Arranger:
Mr. Jason M. Ruedy, also known as The Home Loan Arranger, has 20+ years of experience in the mortgage business. His company was built around the crucial principles of hard work, discipline, and determination. The Home Loan Arranger evaluates client applications quickly and efficiently and structures loans with the best possible terms. Mr. Ruedy is successful in achieving loan closings for clients while meeting their highest expectations. Jason M. Ruedy is ranked #2 in the state of Colorado by Scotsman Guide, which is the top leading resource for mortgage originators.
About Freedom Mortgage Corporation:
Freedom Mortgage Corporation is a privately held, full-service residential mortgage lender that is licensed in all 50 states. Founded in 1990, the corporation is headquartered in Mount Laurel, NJ. Freedom Mortgage is an Equal Housing Lender/Equal Opportunity Employer, and the corporation maintains an A rating with the Better Business Bureau and is a member of the Mortgage Bankers Association.
For media inquiries, please contact Mr. Jason M. Ruedy, "The Home Loan Arranger":
The Home Loan Arranger
512 Cook St #100
Denver, CO USA
Phone: (303) 862-4742
http://www.thehomeloanarranger.com/