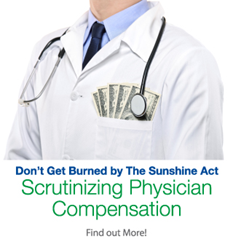 With the Sunshine Act, the government has a new weapon in its arsenal: public transparency in financial relationships between physicians and life sciences companies
Knoxville, TN (PRWEB) April 16, 2015
In its white paper, "Don't Get Burned by the Sunshine Act: Scrutinizing Physician Compensation," PYA delves into the advent of the Sunshine Act and its implications for physicians and life sciences companies. The paper explores the ways in which the Act influences financial dealings between physicians and life sciences manufacturers, as well as the ways in which some companies have reacted to these changes.
PYA's white paper also details how the Act has implemented its Open Payments program and lists three ways companies can protect themselves from getting "burned" as the implications of the Sunshine Act come to light.
As explained in the white paper, "…Historically, the government has relied on well-publicized, high-dollar enforcement actions as a deterrent to pay-for-referral schemes. Now, with the Sunshine Act, the government has a new weapon in its arsenal: public transparency in financial relationships between physicians and life sciences companies."
PYA has extensive valuation experience in the healthcare and life sciences sectors, offering valuation opinions on a wide range of services and financial arrangements.
---
About PYA
For over three decades, Pershing Yoakley & Associates (PYA) has provided timely insight and strategic support, helping clients thrive in the midst of rapid change. PYA is ranked by Modern Healthcare as one of the nation's largest privately held healthcare management consulting firms. For more information, visit http://www.pyapc.com/.