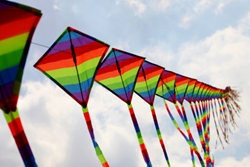 As winter moves out and spring moves in, there are many popular Chicago activities for visitors to enjoy. Hotel Blake has impressive special offers to welcome spring guests.
Chicago, IL (PRWEB) March 30, 2015
Hotel Blake and other Chicago hotels welcome the visitors who waited for spring to visit their beautiful City. As winter moves out and spring moves in, there are many popular Chicago activities for visitors to enjoy. Hotel Blake has impressive special offers to welcome spring guests. View offer details >
Enjoy the Kite Festival at Lincoln Park
May 2, 2015
Cricket Hill at Lincoln Park
Families love this fun Chicago event, and it is free and open to the public. Attendees will see professionals do amazing tricks with their specialty kites. All kids receive a complimentary paper kite upon entering, but those who want to upgrade will find vendors selling a variety of kites. The Kite Festival at Lincoln Park is a popular spring event, and a great choice for the entire family.
Visit Green City Market
Lincoln Park
Wednesday through Sunday, Lincoln Park plays host to Green City Market. This large, urban farmers market brings vendors from Chicago and from outside the City. Visitors will find a variety of fresh fruits and vegetables, along with treats like homemade ice cream and other goodies. Special events, such as tastings or chef demonstrations, are often available at Green City Market.
Attend Chicago Botanic Garden Antiques and Garden Fair
April 17 through April 19, 2015
Chicago Botanic Garden | 1000 Lake Cook Road Chicago, IL 60022
Enjoy browsing antiques in several categories, get ideas for your home and garden, watch helpful demonstrations and much more at the Chicago Botanic Garden Antiques and Garden Fair. Spring is a beautiful time of year to visit the Botanic Garden, and visitors will quickly see why spending time there is such a popular Chicago activity.
Bike the Drive
May 24, 2015
Those who enjoy this popular Chicago activity will have the rare opportunity to ride a bike down Lake Shore Drive without the need to dodge traffic. For five hours, a portion of Lake Shore Drive is closed to vehicle traffic, opening the lanes to the hundreds of bikes that take to the street for this annual event. Bikers can ride from Bryn Mawr Avenue to the Museum of Science & Industry all while enjoying the fine spring weather in Chicago.
Those planning a visit can make reservations on Hotel Blake's website or call 312.986.1234.
About Hotel Blake – A Chicago Hotel:
Ideally located in the heart of historic Printer's Row sits Hotel Blake – a boutique Chicago Hotel. The 19thcentury former Morton and Duplicator building is now home to 162 beautiful Guest Rooms and Suites offered at Hotel Blake.
Whether visiting Chicago for business or pleasure, Hotel Blake offers upscale Chicago Accommodations along with impeccable service. Some believe, 'location is everything'. This makes Hotel Blake an ideal choice! Our Chicago Hotel is located downtown in the heart of Chicago's historic Printer's Row. Take a short walk to State Street, enjoy Grant Park, explore the many fine Chicago Museums, or indulge in a fine dining experience at one of the many nearby Chicago Restaurants.
When visitors choose Hotel Blake, they will enjoy a long list of Hotel Amenities that will set a stay at our Chicago Hotel apart. Enjoy our 24-hour Fitness Center, or get a bit of work done in the quiet and convenience of our 24-hour Business Center. Enjoy a meal in our onsite Chicago Restaurant, Meli Café, or opt for the convenience of Room Service.
Relax in a comfortable, beautifully-decorated room. Get a good night's sleep on impossibly soft Egyptian linens. Wash the stress away by standing under a rainfall showerhead. Guests can enjoy a meal in our Meli Café, or order Room Service and take breakfast, lunch, or dinner in their room.
View the Hotel Blake Website >
Visiting Chicago? Consider Hotel Blake. Check Rates, Make Reservations, or call: 312.986.1234.