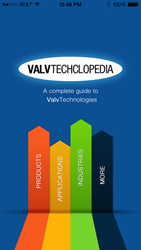 ValvTechclopedia™ is all about instant access to information.
Houston, Texas (PRWEB) March 26, 2015
ValvTechnologies, Inc., manufacturer of zero-leakage high-performance isolation valve solutions announced a new app for Apple and Android devices that allows the user to learn more about industry applications, browse ValvTechnologies' products as well as offers a glossary of industry terms.
ValvTechclopedia™, developed by ValvTechnologies, is a free mobile application immediately available to the entire community of Apple and Android users. This app demonstrates ValvTechnologies' commitment to mobile solutions and our capabilities in developing cutting-edge solutions to build closer partnerships with customers and distributors.
"ValvTechclopedia™ is all about instant access to information," said Julie Bodine, Director of Global Marketing. "The app allows users to instantaneously and conveniently access product and industry information, conversion tables, sizing and testing standards and more from his or her mobile device. Our solution increases productivity and reduces downtime and increases productivity with rapid access to information."
Features include:

Industry applications: ValvTechnologies valves are built to withstand the most severe applications. High temperature, high pressure, high cycling, abrasive, corrosive and caustic media have all been considered in the design of our product line.
Products: V1-1, V1-2, V1-3, V1-4, Nextech®, Truntech®, Isotech®, emergency relief valves, turbine bypass valves, Xactrol® control valves
Conversion tables: temperature, pressure, weight, units
Valve testing standards
Coatings
Sizing standards
Industry and application acronyms
Glossary
Unit converter
The functionality of the ValvTechclopedia™ app is fine-tuned for the mobile audience and allows for offline browsing and viewing. Download the free ValvTechclopedia™ app for Android in the Google Play store and for IOS in iTunes.