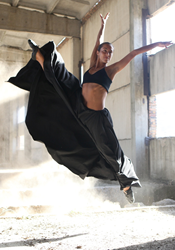 "We are thrilled to be presenting world-class international artists who do not have U.S. representation, and whose work will be presented to U.S. audiences for the first time," said Andrew Wood, executive director of the SFIAF.
San Francisco, California (PRWEB) March 25, 2015
The 2015 San Francisco International Arts Festival (SFIAF) will double in size when it debuts May 21 through June 7 at Ft. Mason Center, growing from 4 to 8 venues, and hosting 150 dance, music and theatre performances by more than 60 critically acclaimed artists from the Bay Area and from 16 countries around the world. For the first time, the festival will offer free bus shuttles from the Embarcadero, Civic Center, and 24th Street MUNI/BART stations for attendees as a result of a new partnership between SFIAF and Ft. Mason Center. The full lineup of 2015 SFAIF performance artists and $12 discounted general admission tickets are available at http://www.sfiaf.org/calendar_2015, or by calling Brown Paper Tickets' event concierges at 1-800-838-3006, for the first 10 percent sold through March 31, while supplies last.
"We are thrilled to be presenting world-class international artists who do not have U.S. representation, and whose work will be presented to U.S. audiences for the very first time at our festival," said Andrew Wood, executive director of the SFIAF. "We are able to offer this caliber of talent and artistry for $12 for a limited number of general admission tickets as a result of partnerships forged between the artists, the countries they represent, our presentation venue and festival organizers, demonstrating our core values of cultural and economic equality and the connection between artists and audiences above making the highest profit."
The SFIAF 2015 theme, "Bearing Witness," will be reflected in the performances of Teatr Zar, the resident company of the Grotowski Institute from Wroclaw, Poland. The SFIAF is proud to bring the U.S. premiere of their powerful new production "Armine, Sister" to the Bay Area, before it's highly-anticipated debut in New York City. "Armine, Sister" depicts the phenomena of 1915 that become known as the Armenian Genocide, on the 100th anniversary year of the event.
Other leading international artists include the U.S. debut of Fabrice Murqia of Belgium, one of the most talked-about and provocative theatre artists in Europe. Murgai will lead his Compagnie Artara to the Bay with a fascinating French language performance piece titled Les Chagrin des Ogres (The Sorrow of the Ogres) that poses questions about the passage to adulthood and society's views about, and treatment of, teenagers.
The Republic of Ireland is represented for the first time at SFIAF by two different projects with the U.S. debut of a brilliant young theatre artist named Áine Ryan with a powerful solo play, "Kitty in the Lane," and the return of Croi Glan Integrated Dance Company with a new repertoire.
There will also be U.S. debuts for performance artists Jesper Arin from Sweden with "Evil," based on the novel by Jan Guillou, Olga Kosterina from Russia with "Dilemma," and Paris-based Cuban classical pianist Gabriel Urgell Reyes. Direct from Cali Valle Colombia will be Hugo Candelario and Grupo Bahia playing a vibrant mix of music evocative of the cultural mix of Colombia's Pacific coast. Making their Bay Area debut will be HORSE Dance Theatre from Taiwan who lit up the New York dance scene with their U.S. debut in 2013. They will present the U.S. premiere of "2 Men," accompanied live on piano by improviser Shih-Yang Lee.
Mr. Lee will also perform in collaboration with the Bay Area's Melody of China. Other international collaborations will include Anne Bluethenthal and Dancers working with members of the El Salvadoran music collective MezoAmerica, Mary Armentrout Dance Theater in collaboration with composer and sound designer Evelyn Ficarra from England, Christine Cali of CALI & CO in collaboration with Na Hoon Park from South Korea and Kitka Women's Folk Ensemble working with Armenian guest singers visiting the Festival with Teatr Zar.
A stellar line up of Bay Area artists is led by San Francisco's third Poet Laureate devorah major in a new play titled "Classic Black," directed by Ellen Sebastian Chang and co-starring Brian Freeman. World premieres of new work by Kiandanda Dance Theater, project agora, Theatre of Yugen, Francis Wong and Tatsu Aoki presented by the Asian Pacific Island Cultural Center will also be presented.
African influenced traditional dance and music will take over the Cowell Theater with concerts by ABADA Capoeira-SF who will share the stage with members of their parent company from Rio de Janeiro, Loco Bloco and Peruvian Grupo de Rompe y Raja. A tribute performance to Blanche Brown, who has led and mentored many dancers and choreographers over the course of five decades in the Bay Area, will be produced by Congo SQ West.
SFIAF 2015 has been supported in part by generous contributions from the following corporations, businesses, government institutions and foundations (in alphabetical order) Adam Mickiewicz Institute, Brown Paper Tickets, City of Wroclaw (European City of Culture 2016), Community Futures Collective, Consulate General of Sweden, Consulate General of the Republic of Ireland, Culture Ireland, FMC Presents, Google, Inc., Kenneth Rainin Foundation, Koret Foundation, LEF Foundation, Macy's San Francisco, National Endowment for the Arts, Phyllis C. Wattis Foundation, Polish Cultural Center of New York, Storer Coachways, Taiwanese Ministry of Culture, Wallonia Bruxelles International, Western Arts Federation (WESTAF).
For more information, go to http://www.sfiaf.org.
###
About the San Francisco International Arts Festival:
SFIAF has been celebrating the arts by bringing together a global community of artists and audiences since 2003. The organization presents innovative projects that are focused on increasing human awareness and understanding. SFIAF's curatorial priorities include developing collaborative projects led by Bay Area artists working with their national and international peers and presenting world-class international artists who often do not have U.S. representation and whose work is rarely (or never previously) seen in the United States.
About Fort Mason Center:
The Fort Mason Center is a dynamic arts and cultural center encompassing 13 waterfront acres and more than 25 performance and gallery spaces, including the Festival Pavillion and the Cowell Theater. Established in 1977, the Fort Mason Center annually hosts hundreds of arts events that attract over 1.5 million visitors. Along with SFIAF, in 2015 the Fort Mason Presents series will include Circuit Network & Pamela Z: SPAN, the Paul Dresher Ensemble: Max Understood and Lenora Lee Dance: Fire of Freedom.
About Brown Paper Tickets:
Brown Paper Tickets (http://www.brownpapertickets.com) is the socially conscious global leader in online ticketing and event registration, helping people in 68 countries plan, promote and sell out events. As a social innovator, the company donates 5 percent of profits to charity with every ticket sold, supports a team of full-time community advocates, called "Doers," and still charges the lowest fee for ticketing and services in the ticketing industry. In 2014, Brown Paper Tickets was rated #1 for ticketing and event registration by http://www.FindTheBest.com. To learn more about the world's only Not-Just-For-Profit ticketing company, visit http://community.brownpapertickets.com/press/.