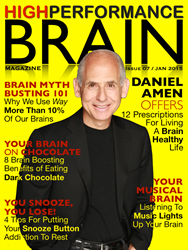 The phenomenon of neuroplasticity is the most important change in our understanding of the brain and mind since the beginning of modern science.
Ottawa, ON (PRWEB) March 26, 2015
With the release of its 7th issue in January 2015, High Performance Brain Magazine is proud to celebrate its One Year Anniversary on iTunes. This bimonthly digital magazine is available at the iTunes App Store under two categories: (1) Newsstand (Health, Mind & Body) and (2) Health and Fitness. Magazine issues are viewable on iPads or iPhones and automatically default to the ideal display mode depending on the device used — a graphic-friendly format for iPads versus a text-friendly format for iPhones.
In the cover story of anniversary issue #7, Dr. Daniel G. Amen (a clinical neuroscientist, double board certified psychiatrist, brain imaging expert, and multiple New York Times bestselling author) outlines his best "prescriptions for living a brain healthy life." Other articles in this issue include: "Your Brain on Chocolate: Brain-boosting benefits of eating dark chocolate," "Brain Myth Busting 101: Why we use way more than 10% of our brain," "You Snooze, You Lose: 4 tips for putting your snooze button addiction to rest forever," and "The Musical Brain: Listening to music lights up your whole brain." Issue #7 also includes the first in a series of live online brain training classes.
Back issues of High Performance Brain Magazine have featured a wide ranging menu of brain health approaches, such as: physical exercise, mindfulness, nutrient-dense super foods, sleep science, memory enhancement, musical training, stress reduction, and frontal lobe practices.
High Performance Brain Magazine is considered a premiere digital guide for optimizing brain health/longevity and brain fitness/performance because of the high calibre of its contributing authors. The tips and strategies offered in this magazine are written by the world's top neuroscientists, doctors, neuropsychiatrists, and brain health experts. These world class scientists draw their information from up-to-date research in the frontiers of neuroplasticity, brain health, neurological rehabilitation, memory enhancement, and brain training systems. Cultivating an optimal state of brain performance using science-based practices can, over time, lead to cognitive benefits such as: better mental clarity, focus, concentration, memory power, and productivity.
Prominent neuroscientists say we're in the midst of a "Neuroplasticity Revolution" because new research on the complex workings of the brain is being released at an unprecedented pace. The idea of 'brain plasticity' or 'neuroplasticity' — the brain's ability to adapt and rewire itself in response to new experiences and novel learning — is the single "most important change in our understanding of the brain since the beginning of modern science," says Norman Doidge, New York Times bestselling author of "The Brain That Changes Itself."
Increasingly, people from around the world are recognizing and taking part in this neuroplasticity revolution. Synthesizing thousands of research articles or hundreds of books on the vast topic of brain health might prove to be inundating for many individuals. High Performance Brain Magazine simplifies this task by bringing the key pieces of brain optimizing science together in one convenient place — a user-friendly, digital guide offering easy-to-understand articles, beautiful graphics, and entertaining videos.
For those interested in staying up to date with the latest advancements in brain research or learning effective methods for boosting brain power and mental performance, High Performance Brain Magazine offers a wealth of practical ideas for exercising the brain.
Individual issues are available for $5.99 (US). The magazine also offers two discounted subscriptions plans: (1) Bimonthly for $4.99 US (17% off) or (2) Six months for $9.99 US (44% off).
About High Performance Brain Magazine
High Performance Brain Magazine is a digital-only magazine that was launched in December 2013 by Daniel Mauro (Founder and Editor-in-Chief). Books and training programs promising rapid brain enhancement have flooded the market, with people hungry for all things brain-fitness related. However, not all content is created equal. High Performance Brain Magazine was designed to satisfy an increasing public demand for reliable, high quality, scientifically valid information regarding the best ways to optimize their brain's performance.