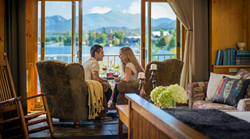 "With the project completed, the initial feedback from our visitors has been overwhelmingly positive. We are even better positioned now to serve the modern traveler and their families." - Mirror Lake Inn owner Ed Weibrecht
Lake Placid, N.Y. (PRWEB) March 26, 2015
A major series of room renovations at the AAA Four Diamond Mirror Lake Inn Resort and Spa in Lake Placid, N.Y. is coming to a conclusion.
A total of 92 of the inn's 131 units have been totally refurbished at a cost in excess of $4 million. Known as the Classic collection of rooms, the project, executed seasonally, began in the fall of 2013. Each has added more than 65 square feet, representing 20 percent more space per room.
This is significantly larger than most standard hotel rooms in Lake Placid.
This is just the latest round of enhancements that fulfill the hotel's philosophy of on-going improvements and reinvestment.
"Our guests have spoken and we have listened," said Mirror Lake Inn owner Ed Weibrecht. "We ask each of our guests to complete comment cards and we take their thoughts seriously. These significant improvements are a collaboration of our guests input, coupled with the efforts of our hotel leadership and construction crew. With the project completed, the initial feedback from our visitors has been overwhelmingly positive. We are even better positioned now to serve the modern traveler and their families."
As the guest enters these brand new luxe Classic Rooms, the nature of the re-design becomes immediately apparent. The exterior wall features wall-to-wall and floor-to-ceiling glass with French style, sliding doors. Retaining a balcony feel, new sound-proof and energy-efficient doors open our guests to what appears to be a mural of the nearby High Peaks Wilderness Area. Except it's all very real.
The renovations also allow more of our clear, refreshing Adirondack mountain air and ample sunlight to permeate the room, along with a view that overlooks pristine Mirror Lake and the Adirondack High Peaks.
The initiative made these rooms very versatile, offering a sleeping area with either two queen-sized beds or a king bed. There is also a year-round, sitting area/porch which offers additional space and comfortable seating. This makes it the perfect place to enjoy a glass of wine or your favorite book.
Families in a Classic Room can use the blackout drapes allowing mom and dad to put the kids to bed early, but still enjoy the sitting area for conversation or reading. This optional separation also satisfies the early riser in the family, who can enjoy coffee with a view, or work on the laptop without disturbing others who wish to sleep.
In addition, the modernization added more power outlets that are easier to access, placed USB connections in the walls and recessed reading lights over both beds.
The seven-acre property also includes luxuriously appointed lodging in the Colonial House and Lake Cottage, both on the lakeshore. The Colonial House was re-built from the ground up prior to 2013, while the Lake Cottage has similarly been a recipient of noteworthy upgrades.
Mirror Lake Inn Resort and Spa has been AAA Four Diamond rated for 30 consecutive years. It features upscale Four Diamond dining in The View Restaurant, which is Lake Placid's lone Four Diamond establishment serving elegant comfort food; the trendy Taste Bistro and Bar; and a hip pub at The Cottage Café.
A world-class spa and salon, rated number one in the Adirondacks, round out the amenities at a property that has been critically acclaimed by The Associated Press, Conde Nast Traveler, Travel + Leisure, CNN.com, ABCNews.com, BuzzFeed.com, Adirondack Life, Wine Spectator, Snow Magazine, U.S. News and World Report and others.
-MLI-
About the Mirror Lake Inn
The AAA Four Diamond Mirror Lake Inn Resort and Spa is a luxury lakefront resort in the Adirondack Mountains. The inn, Four Diamond-rated for 30 consecutive years, offers both world-class cuisine and casual dining options, with impeccable service amid awe-inspiring views. No property in New York State, outside Manhattan, has maintained the Four Diamond designation longer than Mirror Lake Inn. It is the only property in Lake Placid that combines Four Diamond lodging and dining. The inn's renowned Lake Placid spa pampers the body and refreshes the mind with a comprehensive menu of services. The Inn is conveniently located one block from the unique shops found on the village's Main Street.