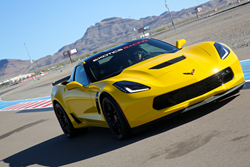 the most anticipated supercars of 2015
(PRWEB) March 25, 2015
Exotics Racing is excited to announce that the Corvette C7 Z06 supercar has joined the fleet of the world's most desired and exotic cars. Since Chevrolet announced the development of a track ready version of the C7 Stingray, we have been eager to drive it at our facility at the Las Vegas Motor Speedway. The wait is over; the C7 Z06 is now available to racing fans at our track.
"The Z06 is certainly one of the most advanced American sports cars on the road, it could be one of the best too," said Romain Thievin, Exotics Racing's Founder and CEO. "This Corvette is lighter, more nimble, and full of aerodynamic design-elements that allow the driver to push the limit. Also, EXR is the first driving experience in Las Vegas that allows guests to get behind the wheel of this beast and test its limits."
With more than 150,000 satisfied drivers since 2009, Exotics Racing knows the importance of adding the best and most exciting cars to the fleet with only offering what is possibly the best sports car America has ever produced.
Outside of cowboy boots it is hard to find anything more American than the small-block V8 engine. The supercharged V8 that powers the C7 Z06 is one of the most powerful production engines in the world. The 6.2L LT4 power plant produces 650hp and delivers 650 lb-ft of torque to the back tires, allowing this car to easily reach 200mph. The supercharger on the Z06 spins at 20,000rpm, 5,000rpm more than the Corvette ZR1. This car is 200lbs lighter than the previous version and 150hp more powerful.
"This car is faster than the C6 ZR1," said David Perisset, Exotics Racing co-founder and CEO. "This is one of the most anticipated supercars of 2015 and we are proud to have it at Exotics Racing."
Exotics Racing is the only driving experience open 7 days a week in Las Vegas. So stop dreaming and start driving one of the most talked about American supercars of 2015. C7 Z06 Packages start at $299 for 5 laps!
About Exotics Racing: Founded by French stunt driver and racecar driver Romain Thievin and David Perisset, Exotics Racing brings you the original supercar track driving experience, with 50 exotic cars on two exclusive race tracks, both designed with fun and safety in mind. Launched in 2009 at Las Vegas Motor Speedway, Exotics Racing has hosted over 150,000 satisfied customers and employs 179 people. Guests visit our tracks from around the world to drive today's most exciting supercars with professional racing instruction on real race tracks in Las Vegas and Los Angeles. Details about the experiences we provide can be found on http://www.exoticsracing.com or calling (702) 405-7223.