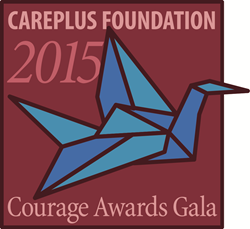 The 2014 Courage Awards Gala provided $44,000 in scholarships to individuals suffering from mental illness who needed financial assistance with reaching their educational goals.
Garfield, NJ (PRWEB) March 25, 2015
Celebrating courage, hope and happiness is the focus of the CarePlus Foundation's 17th Annual Courage Awards Gala being held on June 3, 2015 at the Venetian in Garfield, NJ. The organization's largest fundraiser of the year is designed to honor those who have made a difference in the lives of individuals and families who suffer from the challenges of mental illness and substance abuse.
This year's honorees include The Sefcik Family, survivors of suicide loss and advocates in prevention with their presentation "Remembering T.J. – A Story of Teen Depression, Lessons and Hope"; John Cosgrove, the Mayor of Fair Lawn and supporter of the Fair Lawn Stigma-Free Zone initiative; and Kenneth Ehrenberg, the Chief of the Paramus Police Department and collaborative leader in crisis de-escalation and mental health awareness. The Foundation will also award Dr. Dina Vaynberg with the Compassionate Care Award for her work at CarePlus, representing the best in the field of mental health care.
The 2014 Courage Awards Gala provided $44,000 in scholarships to individuals suffering from mental illness who needed financial assistance with reaching their educational goals. Money raised also went to help young families struggling with mental health challenges to make rent payments and stay in their homes, as well as provided the essential medication that can be impossible for many to afford. Plus, other money raised at last year's Courage Awards Gala helped to fund addiction servicesoutpatient therapy for children and adults, child abuse intervention and much more.
"The theme of this year's Gala is inspired by an adolescent CarePlus client who tells her story inspired by the Japanese Legend that if you fold 1,000 paper cranes, you get to make a wish. This young lady did just that," explained Jamisin Saracino, Director of Advocacy and Community Education at CarePlus. "She folded 1,000 paper cranes over a 10-month period, and once she completed the task, she wished for happiness."
"Her wish was granted when she discovered CarePlus," Saracino continued, "She was linked to a therapist and support group within the organization and began her journey towards recovery. Inspired by her story, we are celebrating this theme of hope and happiness at this year's event."
The Gala committee created "Cranes for Courage", an online CrowdRise fundraiser to spread her message of hope. As a reminder of the support given to these efforts, a paper crane will be mailed to each person that makes a minimum $10 donation through the site. The goal is to generate 1,000 donations and to distribute 1,000 paper cranes, with the wish that CarePlus can serve more individuals struggling with their mental health and help them find happiness.
The Courage Awards Gala includes a cocktail hour, dinner, live and silent auctions, 50/50, raffle and more. The event attracts attendees from across the state, including representatives and supporters from the Northern New Jersey business community. Individual tickets are available at $150 each, with full tables of 10 offered for $1,400.
The Foundation is currently welcoming dinner guests, sponsors, and auction donations. For more information, click here or call 201-986-5070.
About CarePlus Foundation, Inc. ("CarePlus Foundation")
The CarePlus Foundation – the supporting arm of CarePlus was created with a mission to decrease the stigma of mental illness and pave the way to accessibility of care for those looking to seek help through community education, advocacy, and fundraising.
Care Plus NJ, Inc. (http://www.CarePlusNJ.org) is a northern New Jersey provider of recovery-focused mental health, primary care, substance abuse, and family services that addresses the unique needs of individuals with a holistic approach to recovery and overall wellness. Operating out of 23 sites – including three outpatient centers located in Paramus, Fair Lawn, and Montclair, ten residential facilities, offices at three local hospitals, and seven community offices – their services are convenient to clients located throughout Northern New Jersey. They also provide educational programs on mental health-related topics to schools, organizations, and community groups; training topics including certified Mental Health First Aid, Suicide Prevention, Bullying Prevention and Crisis Planning and Intervention Strategies for Schools.