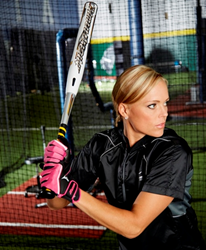 "Playced.com makes navigating the college recruiting process easier." -Jennie Finch
Dallas, Texas (PRWEB) March 26, 2015
Playced.com, a technology based online recruiting company which matches high school athletes with colleges, has announced a partnership with Olympic softball gold medalist Jennie Finch to better educate amateur softball players about college recruiting and increase scholarship opportunities for all softball players. Finch, who holds the NCAA record for most consecutive wins, will provide sound recruiting advice to her fans and followers, while further growing the sport she loves.
"Jennie Finch is softball. The impact that she has had and will continue to have in the softball community is immeasurable," said Ross Hawley, President of Playced.com. "We could not ask for a better ambassador for Playced, Jennie Finch is first-class on and off the field."
"For student athletes looking to play at the collegiate level and coaches looking to assist their athletes with college recruiting, Playced.com delivers a unique, individual experience," Hawley stated. "The Playced.com Matching Engine matches athletes with colleges based on academic and athletic abilities, personal preferences and where student athletes have the best chance to play. The Playced.com Toolkit provides athletes with all the tools necessary to effectively navigate the college recruiting process."
"It was such an honor for me to play in college and it's a goal for so many young athletes. Playced.com makes navigating the college recruiting process easier," said Finch. "Student athletes and their parents have a great resource in Playced.com and I'm proud to help support their mission to continue to grow the game."
About Playced.com
Playced.com was founded in 2013, to provide student athletes a simple and affordable approach to college recruiting without the hassle and expense of a recruiting service. By matching athletes with colleges and educating the athletes on how to get recruited, Playced athletes know what colleges they should pursue and how to pursue them. Along with The Matching Engine, Playced provides aspiring college athletes, of all ages and talent levels, an easy-to-follow recruiting game plan and all the tools necessary for a successful recruiting experience. For more information, visit http://www.Playced.com.
About Jennie Finch
The NCAA record holder for most consecutive wins, Jennie Finch is widely considered the greatest softball player of all time. An Olympic gold medalist, Finch was a three time All-American at The University of Arizona and was named the Women's College World Series Most Outstanding Player in 2011. A mother of three, Finch is devoted to giving back and being a positive influence to youth softball players everywhere. Follow Jennie on Twitter @JennieFinch, Instagram @jfinch27 or visit http://www.JennieFinch.com to learn more.