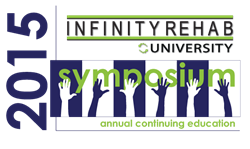 "We are very excited to take the great energy from that event and bring it out to Denver in a big way for the second time!"
Denver, Colorado (PRWEB) March 24, 2015
Infinity Rehab continues its long-standing tradition of providing quality education opportunities for its clinicians and non-affiliated therapists through the contract therapy company's unique brand of Continuing Education Symposiums.
"We just held the tenth annual Symposium in Portland, Oregon at the beginning of March," says Tim Esau, PT, MSPT, Director of Compliance and the head planner for the Symposiums. "The Northwest symposium is one of the largest continuing education events in the region for therapists. We had an amazing turnout for 2015 and we are very excited to take the great energy from that event and bring it out to Denver in a big way for the second time!"
Infinity Rehab Continuing Education Symposiums serve as a place for therapists from around the country to earn the Contact Hours necessary to maintain their licensure and interact with like-minded professionals. Industry vendors are also on-hand to talk with attendees about the latest in rehabilitation technology and treatments.
Courses available at the 2015 Mountain Symposium include joint replacement rehabilitation, the five practices of exemplary leadership, and optimizing intensity in the post-acute care rehab settings – among others. For a full list of available courses, please visit http://www.infinityrehab.com/symposium.
"It is our mission to enhance the life of every person we serve," says Derek Fenwick, PT, MBA, GCS and Director of Professional Development. "These symposiums are our way of applying that mission to our clinicians and therapists not affiliated with infinity Rehab. As we advance our practice knowledge, we become even better equipped to help the individuals we serve regain their independence and comfort."
Mountain Continuing Education Symposium: April 11-12, 2015
Hyatt Regency - Denver Tech Center
7800 East Tufts Avenue
Denver, CO 80237
About Infinity Rehab
Established in 1999, Infinity Rehab is a leading provider of clinically intensive, comprehensive physical, occupational and speech therapy in sub-acute and long-term care environments. The company was founded and is led by a team of therapists. Infinity Rehab is a member of the Avamere Family of Companies and has operations in nine states.