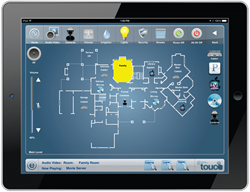 Decatur, IL (PRWEB) March 26, 2015
Liaison Smart Home Automation, a premier national integration firm specializing in Crestron automation, today officially announced their efforts to provide innovative smart home solutions to homeowners across the United States.
Originally Electronic Environments, Liaison Smart Home Automation came into existence in 2014 when Dr. Steven Weber, experienced a massive home automation problem in his Colorado home. Electronic Environments, with their 20 year history, then stepped in to solve the problem that another company had created and was not able to resolve.
Weber's experience using the Colorado firm's simple-to-use ETouch technology to control every aspect of his home made a monumental impact, leading him to form Liaison Smart Home Automation. He was thus inspired to develop a company which could bring this patent pending floorplan interface to other homeowners across the country.
Liaison's ETouch technology is at the focal point of the company's goal to act as a connector to help improve communication between people, organizations, and electronic devices in a home.
"Everything we do centers around facilitating a close working relationship with others and improving communication in order to simplify the complexities of life," Liaison President and CEO Weber said.
Liaison's network of both staff solution experts and local trade partners is dedicated to serving customers with a unified team approach. This partnership helps bring local, personalized customer service to the consumer, while playing into the expertise of a national firm.
"We envision Liaison being the preeminent national-level integrator of high-quality custom home automation solutions to homeowners - as well as the most sought after turnkey service provider for builders, architects, and other players in the home industry, " Weber said.
Liaison's turnkey solutions encompass the entire process of installing a home automation system; from interacting with the customer, designing and managing the project, to ensuring the end product is perfect are all now available nationwide.