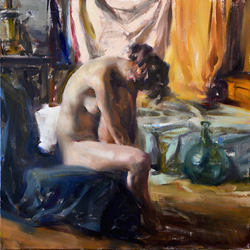 Presenting the California Art Club's 104th Annual Gold Medal Juried Exhibition at the USC Fisher Museum of Art is fitting, as both the University of Southern California and the Club are dedicated to furthering arts education.
Los Angeles, Calif. (PRWEB) March 26, 2015
The California Art Club will present its 104th Annual Gold Medal Juried Exhibition at the USC Fisher Museum of Art in Los Angeles from March 29 to April 19, 2015. A gala preview reception with the artists will be held on March 28, the evening before the exhibition opens to the public.
This showcase of contemporary-traditional fine art paintings and sculpture is the only one of its kind in the nation, juried by a panel of museum scholars and nationally-renowned artists to select exceptional works of art that continue the rich tradition of the early California artists that founded the organization in 1909.
Expressly un-themed to encourage artists to take risks with their artwork, the Gold Medal Exhibition spotlights more than 200 never-before-seen works, incorporating representational fine art techniques with poetic aesthetics to explore contemporary issues and concerns, including the environment, social issues and spiritual messages.
"Presenting our 104th Annual Gold Medal Juried Exhibition at the USC Fisher Museum of Art is fitting, as both the University of Southern California and the Club are dedicated to furthering arts education," says American artist Peter Adams, who serves as the organization's president. "California Art Club artists have also been actively involved with USC for more than a century, educating its students and enhancing the campus and its surrounding area with public art and architectural works," Adams adds.
During the three-week display, the Club will offer two educational programs that focus on the classical art form of sculpture. Christopher Slatoff, one of Southern California's most prolific sculptors of monumental art, will conduct a Sculpting Demonstration on the opening day of the exhibition. On Saturday, April 11, Slatoff and fellow sculptor Matthew Segotta will lead a Walking Tour of the Sculpture at USC. Throughout the last century, many Club artists have been involved with the creation of public art at USC, including the University's famed Tommy Trojan sculpture, installed by Roger Nobel Burnham in 1930.
Among the exhibiting artists in this year's Gold Medal Exhibition are Peter Adams, John Asaro, Belá Bácsi, Brian Blood, John Cosby, David C. Gallup, Adrian Gottlieb, Cindy Jackson, Calvin Liang, Kevin Macpherson, Jennifer Moses, Ralph Oberg, Alicia Ponzio, Jesse Powell, Ray Roberts, Mian Situ, Christopher Slatoff, William Stout and Ruth Weisberg.
For more information about the exhibition and its accompanying full-color catalogue and educational programs, visit californiaartclub.org.
# # #
About the California Art Club
The California Art Club (californiaartclub.org), established in 1909 by early California Impressionists or plein air painters, is recognized as one of the oldest, largest and most active leading professional art organizations in the world. The mission of the Club is to promote traditional fine arts in the fields of painting, drawing and sculpture; produce and promote art exhibitions that foster greater understanding of traditional art heritage and California history; and furnish educational opportunities in the fine arts. Members include nationally renowned artists, art students, art scholars and patrons, and leading collectors and members of the business community in order to interject different perspectives into the ongoing dialogue about traditional fine arts.
About the USC Fisher Museum of Art
The USC Fisher Museum of Art (fisher.usc.edu), established in 1939, is accredited by the American Alliance of Museums. It functions as a center of intellectual inquiry and aesthetic enjoyment in support of USC's goals of research, teaching, artistic creation, and service to society. The Fisher Museum bears special responsibility to link the art in its permanent collections and the art it presents in its temporary exhibitions to all of USC's present and future audiences: to its students, faculty, staff alumni, and surrounding communities. Fisher Museum offers an array of programming, including lectures, artists talks, yoga, film screenings, concerts, and poetry readings to enhance and support its exhibitions. Fisher Museum is also proud to be the home and working laboratory for the USC International Museum Institute, a think-tank for museum professionals and a division of the USC College.