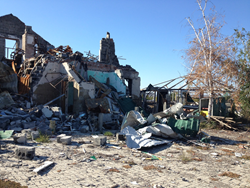 Thousands of innocent people caught in the crossfire have run out of resources – and options
Kyiv, Ukraine (PRWEB) March 25, 2015
The global humanitarian agency Mercy Corps is launching an emergency response on the front lines of the conflict in eastern Ukraine to help people in urgent need. More than 1.8 million people – at least 60 percent of them elderly – have fled their homes since fighting erupted last April. Mercy Corps will initially work in the embattled region of Luhansk Oblast, delivering emergency assistance to an estimated 22-30,000 civilians.
"Thousands of innocent people caught in the crossfire have run out of resources – and options," says Stu Willcuts, Mercy Corps' country director in Ukraine. "Our goal is to ensure people have access to the basic necessities: food, clean water, shelter and essential household supplies."
Throughout the harsh winter, people living in conflict-affected areas and those who have fled from the fighting have endured frigid temperatures reaching -22F (-30C), many without access to functioning heat or electricity. Primary public services have been shut down or interrupted by shelling and rocket attacks. Household items such as blankets, cold-weather clothing and wood and coal for heat are urgently needed.
"As we've worked to set up our operations, people are telling us, 'If I am going to die, it will be at home,'" says Willcuts. "We hope all parties will hold to the peace agreement, thus allowing the global humanitarian community to enter the country, assess the humanitarian services needed in previously inaccessible areas and bring lifesaving help to battle-weary civilians."
Funded by a $2.5 million grant from the USAID Office of U.S. Foreign Disaster Assistance, Mercy Corps will first deliver non-food items, shelter repair items and vouchers to enable people to buy what they need, and some psychosocial support for children. In addition, Mercy Corps will work with its partner HelpAge International to meet the unique needs of the elderly population. To support Mercy Corps' response to this and other humanitarian crises around the world, donate at https://www.mercycorps.org/donate.
About Mercy Corps
Mercy Corps is a leading global humanitarian agency saving and improving lives in the world's toughest places. http://www.mercycorps.org.