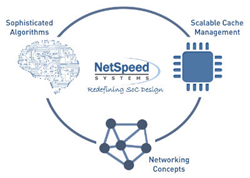 Without more design automation, the complexity will become so daunting that fewer companies will risk designing their own chips.
San Jose, California (PRWEB) March 25, 2015
NetSpeed Systems Inc., a supplier of on-chip network IP announced the availability of a new white paper from The Linley Group titled "Automating Front-End SoC Design with NetSpeed's On-Chip-Network IP." The paper examines the challenges of turning SoC architecture specifications into successful design implementations. It presents the case that SoCs are becoming too large and complex for existing design methodologies, and identifies the need for a more automated front-end design process.
"It is increasingly difficult for conventional interconnects to meet all the latency requirements while preventing deadlocks and minimizing the masses of wiring that inflate die area and power," said Linley Gwennap, founder and principal analyst at The Linley Group. "In addition, IP blocks are growing more diverse in speeds and I/O traffic, requiring multiple networks or segregated subnetworks to avoid bottlenecks. Coherency adds a new layer of complexity, particularly in leading-edge designs with heterogeneous compute capability."
Sundari Mitra, co-founder and CEO of NetSpeed, the company sponsoring the white paper said, "The majority of solutions in the market - either existing commercial fabrics or proprietary buses, crossbars - are not scaling for today's mobile and enterprise requirements. Furthermore, the conventional approach to designing, modeling and simulating interconnects is taking too long, and leaves a lot of uncertainty about whether the designs will succeed at tapeout."
"Without more design automation, the complexity will become so daunting that fewer companies will risk designing their own chips," said Tom Halfhill, senior analyst at The Linley Group, and author of the white paper. "Sooner or later, the industry will embrace front-end design tools that inevitably will look very much like NetSpeed's."
The Linley white paper "Automating Front-End SoC Design With NetSpeed's On-Chip-Network IP" is available for download at http://linleygroup.com/netspeed-wp
About The Linley Group
The Linley Group is the industry's leading source for independent technology analysis of semiconductors for networking, communications, mobile, and data-center applications. The company provides strategic consulting services, in-depth analytical reports, and conferences focused on advanced technologies for chip and system design. The Linley Group also publishes the weekly Microprocessor Report, Networking Report, and Mobile Chip Report. For insights on recent industry news, subscribe to the company's free email newsletters: Linley Wire, Linley on Mobile and Processor Watch.
About NetSpeed Systems, Inc.
NetSpeed Systems provides scalable, coherent, on-chip network IPs to SoC designers for a wide range of markets from mobile to high-performance computing and networking. NetSpeed's on-chip network platform delivers significant time-to-market advantages through a system-level approach, a high level of user-driven automation and state-of-the-art algorithms. NetSpeed Systems was founded in 2011 and is led by seasoned executives from the semiconductor and networking industries. The company is funded by top-tier investors from Silicon Valley. It is based in San Jose, California and has additional research and development facilities in Asia. For more information, visit http://www.netspeedsystems.com.