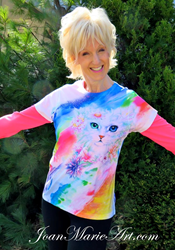 We are thrilled to be working with Joan again and excited to bring her sensual felines to our die-hard cat lovers.
St. Louis, MO (PRWEB) March 26, 2015
Joan Marie Art announces a licensing agreement with Air Waves, Inc. An industry leader in garment decoration, Air Waves will license eight of Joan Marie's cat portraits, which feature fine art felines with high energy abstract backgrounds.
A long history with Air Waves and the first artist ever to receive royalties from the company, Joan Marie was a premiere artist with the garment decoration giant for upwards of 20 years. Licensing with them early in her career, over time Joan Marie licensed more than 35 successful designs with the company.
An explosion of colorful retro chic, Joan Marie's cat designs purr with splashes of rainbow bright colors surrounding fluffy cats. Hypnotic pets with large, staring eyes, each breed of cat speaks to a different cat lover.
"I am ecstatic about launching my new designs with Air Waves," said artist Joan Marie. "With such a successful partnership in the past, selling millions of product using my designs, I'm looking forward to work with them again to bring my images to all the cat lovers on T-shirts and other garments."
From her exclusive "Joan Marie Gallery" in Union Station Mall in St. Louis to millions of products sold with her images, Joan Marie has both an extensive licensing career and fine art background.
"Joan Marie's new designs speak to a market ready for light, fun designs that capture the imagination," said Dan Pauly, art director with Air Waves, Inc. "We are thrilled to be working with Joan again and excited to bring her sensual felines to our die-hard cat lovers."
Joan Marie is re-launching a series of news designs at Licensing Expo this year June 9-11. Reinvented with a style that unites the explosive energy of her abstract art with the passionate detail of her of her classically trained paintings, Joan is finding renewed interest in her electric style. Some of Joan's collections are available on her website, http://www.joanmarieart.com and more will be launched at her Licensing Expo debut in Las Vegas this June.
About Joan Marie Art
A recognized brand for decades, Joan Marie began her licensing career nearly 25 years ago when she sold millions of products with her images on stationery, back-to-school, apparel, wall art, and gift and novelty items around the world. A prolific artist deeply driven to express the joy she feels about life, Joan Marie's art has evolved through several successful styles. Licensed by giants The Hamilton Collection, Air Waves Inc., and the American Puzzle Company, Joan Marie's inspired enthusiasm is contagious and palatable, and customers are attracted to her vibrant and expressive style. Live audiences and YouTube viewers can experience her unique painting process, a spirited dance animated in an explosion of colors.
CONTACT for licensing - Joan Marie, 835 Country Heights CT, Ballwin, Mo. 63021. Tel- 636-207-7834. Email- joanmarieArt(at)charter(dot)net. Website- http://www.joanmarieart.com