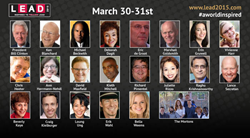 Through participation, we can create a world of infinite potential!
Aurora, ON (PRWEB) March 25, 2015
The lack of INSPIRED Leaders with big dreams fuels poverty, crime, war, illiteracy and increased health risks globally.
Individuals who live under these circumstances have the ability to change their world by creating a dream and a vision of a better world, but they lack role models and relatable individuals to inspire them to make these changes.
On March 30th & 31st, to Celebrate World Leadership Day (March 31st), HR.com is creating a global leadership movement by bringing together 22 inspirational speakers into a 2 day live broadcast that is accessible to the world. The goal: to offer hope, inspiration and leadership stories that will inspire people to make the world a better place. LEAD2015 is a platform to change the world by inspiring individuals, communities, organizations and governments to choose education, collaboration and ethical leadership instead of ignorance, indifference and violence.
"Through participation, we can create a world of infinite potential!"
Anyone with Internet access is able to participate in this movement free of charge.
LEAD2015 is being broadcast live from the Four Seasons Resort & Club in Dallas Texas, with 22 speakers including:

A former President of the United States
10 New York Times Bestsellers
5 individuals who have Hollywood movies out documenting their courageous leadership initiatives
2 individuals who have raised hundreds of millions of dollars for charities before they the age of 20
3 of the top 10 leadership speakers from last year
A dog named Tuu Weh who is trying to get Celebrity Status so she can fly on Delta (read more)
To see a list of the 22 speakers and Tuu Weh, see http://www.LEAD2015.com
Individuals can participate free of charge by selecting three speakers who may resonate a story or message with their personal life. These three sessions will be streamed directly to their computer. Interested participants may now CHOOSE 3 PREFERRED SPEAKERS HERE
Companies can participate and broadcast this into their workplace (3 speakers or the entire conference) by emailing Sandy Rutherford at srutherford@hr.com.
Not-for-profits/charities/schools can participate in LEAD2015, with the hopes of bringing this to their community and members as a fundraiser for 2016 by emailing Alison Greenwood at agreenwood@hr.com.
Choice not chance, coupled with inspiration and dedication are what instill leadership capabilities. Be inspired to change a community workplace or individual life. No change is too small, and with the diverse messages and speakers, LEAD2015 can inspire the world!
About HR.com
HR.com, the largest global social networking and resource site for HR Professionals is committed to providing a deeper understanding of the HR function for 240,000 members by offering a Global Leadership annual event, Leadership500 Awards, an innovative Personal Excellence app, guaranteed re-certification prep courses, certification and re-certification credits, interactive Excellence Essentials monthly e-publications, 18 Certification Programs, 3,500+ webcasts, 230+ virtual conferences, blogs, community networks, industry news and advisory boards. http://www.hr.com
About LEAD2015
LEAD2015 is a 2-day leadership forum designed to inspire leadership in people from all walks of life, live simulcast to hundred of remote host sites internationally. The event will bring top thought leaders and the world's best leadership practices into any organization and is scheduled for March 30th to April 1st at the Four Seasons Resort & Club in Dallas, Texas. This intimate venue will host the speakers who will be broadcast out to hundreds of host sites across the continent. This three-day event will provide attendees with the tools and resources they need to create top leaders throughout their entire organization. The Leadership Excellence & Development Forum targets all levels of leadership and personal corporation goals by helping attendees create a company-wide leadership program.
HR.com contact:
Debbie McGrath
Chief Instigator and CEO
http://www.hr.com
dmcgrath@hr.com
http://www.facebook.com/hrdotcom
http://twitter.com/hrdotcom
http://www.linkedin.com/company/hr.com