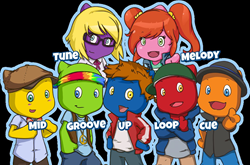 Born out of a desire for more kid-friendly, quality music options for my own children, the development of the App and easily accessible music videos is the next evolution
San Antonio, Texas (PRWEB) March 26, 2015
Geeh the Band announces the release of its first four music videos for children on its new App. Following closely behind the release of its third album, EVOLVE, coming out this 2015, the release of music videos on its App at no charge offers even more mobile music and video media options with positive messages for families.
Designed for tech-savvy kids ages 4-10, this new App is robust and easy for kids to use. Fans can download videos and then play the first two albums of music. Videos available for viewing and download right now are "Summer Time," "Everytime" and "Heaven" from the first album HEAVEN and "We'll Make the World Shine" from the FIERCE album.
The band is developing a downloadable code that will allow fans to get all 12 of the music videos currently in development. When a manufacturer licenses the Geeh characters for their product, their customers then receive the code to download music, enhancing the licensor's brand by delivering quality kid's music with their products. This adds value and goodwill to brands through kid- and parent-friendly music, stories, and videos.
"Born out of a desire for more kid-friendly, quality music options for my own children, the development of the App and easily accessible music videos is the next evolution," said Alfonso Soto, creator and co-executive producer of Geeh the band. "Kids are so visual, we knew we had to bring these lovable characters and music to life for our fans."
The sing-along-worthy lyrics sung by Geeh the Band bring a pop music appeal, with toe-tapping beat and important messages based on friendship, standing up for yourselves, love, going after your goals, self-confidence, the environment and more.
Singles from HEAVEN and FIERCE can be downloaded free on the website or through iTunes.
About Geeh the Band
When Alfonso Soto, the founder of Geeh the Band, and his wife Ivonne, launched the award-winning kids' band and first album, 'HEAVEN,' in 2013 little did he know that he was creating rock stars from the ground up. As a Dad, Soto was inspired to create real rock music with value-driven lyrics that would appeal to an audience of young children and their parents. With a barren original, pop music market for kids 4-10 years old, Soto found a niche and instant fans with this new sound for kids. Launched to offer more age-appropriate and popular songs for his own children, Soto, found early success with Heaven´s Album , winning a Billboard Chart hit at #32 for 'Life is meant to be fun,' and a # 67 hit on Media Base for 'We'll make the world shine' from Fierce.
The seven uniquely talented band members all hale from the planet Premmuy, a garlic shaped planet that was hit by an asteroid to create life. The kids in the band have all evolved from a race called Meaps. They are neighbors who love to gather in a garage and make music.