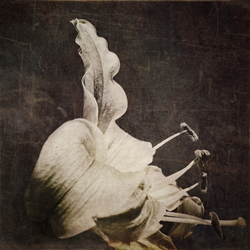 That which has aged, decayed, and been weathered and forgotten has always held my attention as a photographer. Adria Ellis
Santa Fe, New Mexico (PRWEB) March 26, 2015
Iphoneography is a photographic production process based on the capture and creation of photographs taken with an iPhone. The main difference with the traditional methods is based on the immediacy of the production of images and multiple possibilities offered by different IOS applications. Participating artists will be submitting work from Spain, Italy, Maine, Pennsylvania and Colorado and include José Luis Lopez Moral, Caroline MacMoran, Christian Margarita and Kimberly Post.
"That which has aged, decayed, and been weathered and forgotten has always held my attention as a photographer. What draws me to the rot? Not knowing the answer to that question motivates further work, a closer look, a new angle. Everyday things are always changing, adapting, and following nature's intention towards death. Everything we touch and see is aging and therefore in some state of decay.
"When applied to my own life, these concepts offer inspiration - the grace I witness in the decay of a flower, for example. I strive to emulate in my own life what I perceive in nature. To be able to recognize beauty in all stages of life. Key words: grace and trust.
"Applied to art, when pondering decomposition, I think immediately of composition. What happens when we begin to decompose artistically what we generally put so much effort into creating? So often less is truly more." - Adria Ellis
About EVOKE Contemporary
EVOKE Contemporary is committed to promoting compelling and provocative contemporary artists of international acclaim. EVOKE Contemporary participates in Last Friday Openings + Artwalks in the Railyard Arts District each month year round.
EVOKE Contemporary is located at 550 South Guadalupe Street, Santa Fe, New Mexico 87501. Telephone 505.995.9902. For more information, visit the EVOKE Contemporary website at http://www.evokecontemporary.com.