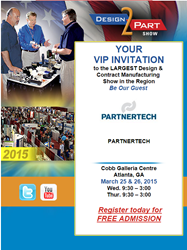 Atlanta, GA (PRWEB) March 25, 2015
Attendees are invited to visit with PartnerTech at Booth #407 to learn more about customized solutions that serve the entire product lifecycle. Success in MedTech, CleanTech, Information Technology and Industry in the service areas of electronics, new product development, assemblies, engineering and technical services characterize the expertise provided by PartnerTech.
The comfortable and relaxed environment of the show presents the ideal opportunity to get to know PartnerTech. Learn more about the depth of engineering expertise, assembly resources, and flexible, scale-with-demand services available with PartnerTech. Businesses looking for an industrial partner to provide better control of cost and service delivery will benefit from this event.
For more than 40 years, the Design-2-Part Shows have been showcasing the finest contract manufacturing services, custom components and parts provided by engineers and product manufacturers in the U.S. Representatives from industries such as medical device, electronics, automotive and others attend annually to learn about the latest innovations in assembly, prototyping and customized manufacturing processes. In addition to access to hundreds of design and contract manufacturing service providers, the Technology Association of Georgia (TAG) will present a seminar on 'On-Shoring' in conjunction with the Design-2-Part Show.
Businesses looking for instant answers have the chance to speak with providers about new technology and processes that offer cost-effective solutions to a wide variety of manufacturing needs. The shows are held in a variety of cities across the U.S. with the Atlanta event, held March 25-26, being the largest design and contract manufacturing show in the Southeast.
TAG will present a seminar on 'On-Shoring–Bringing Manufacturing Jobs Back to America' on Thursday, March 26. This informative program will discuss the sound business decisions that are bringing manufacturing back to the U.S. A panel will address the decision process manufacturers are taking and look at the global dynamics driving the on-shoring movement. Hear from several speakers, and have the opportunity to ask questions as an attendee of this compelling presentation.
About PartnerTech
PartnerTech AB is a global industrial partner offering customized solutions throughout the product lifecycle, from product development to manufacturing and aftermarket services, in a number of market areas such as MedTech and Oil & Gas. With almost 1,400 employees at its plants in Sweden, Norway, Finland, Poland, the UK, the United States, and China, PartnerTech reports annual sales of more than SEK 2,2 billion (approx. $335MM). PartnerTech AB, the parent company, is headquartered in Malmö, Sweden and is listed on the Nasdaq OMX Stockholm Exchange.
PartnerTech Inc. is a wholly owned subsidiary of PartnerTech AB of Sweden and offers expertise in systems integration and postponement manufacturing, making them an obvious choice for companies seeking to lower costs through better forecasting, supply chain alternatives, and efficiencies in distribution and management of capital investments. Services are tailored to fit the needs of each client, with regard to scaling production, shipping expertise, and sourcing methods.