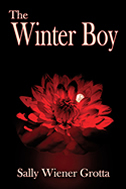 "['The Winter Boy']... is a masterpiece. I am in awe of the author's storytelling skill." ~ Evie Harris, "Sammi"
(PRWEB) March 25, 2015
"The Winter Boy" by Sally Wiener Grotta has been nominated for the prestigious Locus Award. The book's publisher -- Pixel Hall Press -- is celebrating by sponsoring a Goodreads Giveaway. An author autographed copy of this critically acclaimed literary speculative novel is the prize.
"It's a great honor for 'The Winter Boy,' said Cynthia Dadson of Pixel Hall Press. "In particular because the nominations for the Locus are made by a select group of respected science fiction and fantasy book reviewers and editors. What better way to celebrate than to give away a personally autographed copy of this remarkable novel?"

The Giveaway started today March 25th and will end April 3rd at 11:59 PM.
To Vote for the Locus Award, go here.
The general public is invited to vote. (It's not necessary to be a subscriber to Locus Magazine to vote, just leave that field empty.) Further information on how to vote may be found on Sally Wiener Grotta's blog.
"...a deeply thoughtful book… very engrossing" ~ Kelly Jensen, SFCrowsnest
Reminiscent of Margaret Atwood, Mary Doria Russell and Ursula K. LeGuin, "The Winter Boy" explores important political and social issues within a dynamic, character-driven otherworld. In "The Winter Boy," a cloistered society of widows has forged a centuries-long peace by using storytelling, reason and sexual intimacy to train young men destined to be leaders. But a new widow's first season with a "problem" boy erupts into conflict, anger and danger, when she uncovers a web of conspiracies that threatens his life and could destroy their entire society. And a winter that should have been a gentle, quiet season becomes one of conflict, anger and danger.
"This book is a masterpiece. I am in awe of the author's storytelling skill." ~ Evie Harris, Sammi
Where to Find "The Winter Boy"
"The Winter Boy" is available in hardbound, paperback and eBook (all formats) from most bookstores including iBooks (where it is currently a Featured Book), Amazon, Barnes & Noble, Books-A-Million and most other book stores.
Book reviewers and bloggers interested in receiving review copies and/or interviewing Sally Wiener Grotta should contact Cynthia Dadson, Director of Marketing & Communications of Pixel Hall Press (Cynthia[at]PixelHallPress[dot]com).
About Sally Wiener Grotta
Sally Wiener Grotta is a consummate storyteller, reflecting her deep humanism and appreciation for the poignancy of life. As an award-winning journalist, she has written hundreds of articles, columns, essays and reviews for scores of glossy magazines, newspapers, journals and online publications. She has also authored numerous non-fiction books. Her fiction includes the critically acclaimed novel "Jo Joe."
Sally Wiener Grotta is a frequent speaker at conferences, universities and other organizations about storytelling, creativity, and the business of writing. She welcomes invitations to participate in discussions with book clubs (occasionally in person, more often via Skype, Google Hangout, or phone), and to do occasional readings.
*About Pixel Hall Press
Pixel Hall Press is a relatively new, old-fashioned small publishing house whose focus is on discovering literary gems and great stories that might otherwise be overlooked. Our mission is to publish books that energize the imagination and intrigue the mind, and to be a conduit between readers and provocative, stimulating, talented authors.
In this era of digital technology, Wall Street involvement and merger mania, many mainstream publishers seem to have lost sight of core principles and the purpose of publishing. At the other end of the spectrum is the veritable avalanche of self-published books that are notoriously uneven in quality. Small boutique imprints like Pixel Hall Press are reclaiming the heart and soul of publishing by reviving the idea that a publisher's core purpose is finding and nurturing great writers, and to provide readers with beautiful, meaningful, truly enjoyable books.