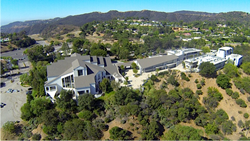 "We are so grateful to have this beautiful campus with an amazing view of this city that we love," said Senior Pastor Drew Sams.
Bel Air, California (PRWEB) March 26, 2015
PALM SUNDAY: ONE CHURCH, ONE SERVICE, ONE PRAYER
*Aerial Cameras Will Capture Photos and Video of the Event
After The Prayer Circle, Congregation will Assemble 2,000 Love Your Neighbor Care Packages for Those in Need
Bel Air Presbyterian Church, one of Los Angeles' largest churches, prepares for the most significant Christian holiday of the year by marking the beginning of Holy Week with its first-ever massive prayer circle Palm Sunday, March 29 at the conclusion of the 10:00 a.m. service. Aerial cameras will fly above to capture both photos and video of this special event, which is sure to be a spectacle from the air.
Led by Senior Pastor, Reverend Dr. Drew Sams, who marks one year from his first sermon at the church, will lead the congregation of over 1,500 worshippers in a prayer asking the Lord to use the members of Bel Air Presbyterian as His servants, and be a blessing to Los Angeles.
"We are so grateful to have this beautiful campus with an amazing view of this city that we love," said Senior Pastor Drew Sams. "An event like this is such a simple way for us all to come together during the most important week of our year, in a gorgeous setting to celebrate our church family, the beauty of God's creation, and the passion of Jesus Christ!" Palm Sunday's prayer circle is a living enactment of Bel Air Presbyterian Church's new 24/7 prayer initiative, to cover every hour of every week in prayer as a congregation.
Instead of the regular four Sunday services, there will be only one large 10:00 a.m. - 11:10 a.m. service. As the service concludes, 150 church staff and members will guide worshippers to form the prayer circle around the perimeter of the campus, link hands and pray.
Palm Sunday marks the day that Jesus entered Jerusalem for the annual Passover celebration. He was welcomed exuberantly by the city as they celebrated his arrival honoring him by waving palm branches and crying out, "Hosanna! Blessed is he who comes in the name of the Lord! Blessed is the King of Israel!" John 12:12-19 NIV
Immediately after the prayer, the congregation and guests will be encouraged to participate in a service effort to assemble 2,000 Love Your Neighbor Care Packages. These care packs, created for and distributed to the homeless and disadvantaged, contain a snack, water, socks, hygiene items, the Gospel of John, and a list of local resources for people in need.
On Thursday, April 2 at 7:30 p.m., a Maundy Thursday service, commemorating the Last Supper, will be held in Bel Air Presbyterian's Discipleship Center. There will be four Easter Services at the church on Sunday, April 5th including an intimate Sunrise Celebration at 6:00 a.m. outside the cafe. Easter service times will be at 8:00 a.m., 10:00 a.m. and 12:00 p.m., which include the choir, orchestra and band. The congregation will proclaim and celebrate the resurrection of Jesus Christ and hear a message of hope! There are no admission fees and ample free parking is available with shuttles provided by the church.
For historical reminders of events that took place in Jerusalem during Holy Week, text HOLYWEEK to 818-804-5090.
Located on Mulholland Drive nestled in the top of the mountains between Encino and Bel Air, the church was established in 1956 and has more than 2,700 members.
Bel Air Presbyterian Social Media Links!

Footage and photos will be made available to the media following Palm Sunday's prayer circle. Please contact Chrissey Slay for download link ~ Chrissey(AT)Luminiah.com or 310.365.2924.