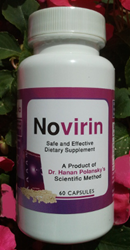 Normally, drug resistant strains show up in people with a weak immune system. However, researchers found that drug resistant strains were also widespread in individuals with a healthy immune system (2).
Rochester, NY (PRWEB) March 27, 2015
"Infected with the herpes simplex virus (HSV-1 or HSV-2)? The Center for the Biology of Chronic Disease (CBCD), which tested the formula of Novirin in two post-marketing clinical studies, recommends taking this natural antiviral supplement." – Greg Bennett, CBCD
A study showed that acyclovir reduces the time a patient experiences pain associated with a first herpes outbreak. (1) Dr. Stephen T. Yip and colleagues wrote that "a review of 3 double-blind, placebo-controlled RCTs compared topical, oral, and IV acyclovir in patients with a first episode of genital herpes … all treatments shortened duration of pain compared with placebo." (1) Dr. Yip is from the Oregon Health and Science University in Portland. Additionally, "oral and intravenous (IV) acyclovir each shorten the duration of pain for a first primary outbreak of herpes by about 50%; topical acyclovir shortens it by about 25%..." (1) Drugs like acyclovir (ACV) are the standard treatment against the herpes virus. (See RSC Advances, from 2013) (2)
The CBCD points out that other studies show that more and more strains of the herpes virus have learned to protect themselves against these drugs. In other words, the drugs are becoming ineffective. Scientists call this situation "drug resistance." Drug resistance has become a serious problem in the last few years (2). Due to this fact, the CBCD recommends that individuals infected with the herpes virus (HSV-1 or HSV-2) talk to their doctors about Novirin. The formula of this natural antiviral supplement was shown to reduce herpes symptoms in two separate post-marketing clinical studies that followed FDA guidelines.
Click to learn more about Novirin and herpes symptoms.
The formula of Novirin was tested by Hanan Polansky and Edan Itzkovitz from the CBCD in two clinical studies that followed FDA guidelines. The studies showed that the Novirin formula is effective against the herpes family of viruses, including HSV-1 and HSV-2. The clinical studies were published in the peer reviewed, medical journal Pharmacology & Pharmacy. The first study was published in a special edition on Advances in Antiviral Drugs. Study authors wrote that, "individuals infected with the HSV … reported a safe decrease in their symptoms following treatment with (the formula of Novirin)." (3) The study authors also wrote that, "We observed a statistically significant decrease in the severity, duration, and frequency of symptoms." (3)
Novirin can be ordered online on the product website, here: http://www.novirin.com.
Novirin is a natural antiviral dietary supplement. Its formula contains five natural ingredients: Selenium, Camellia Sinesis Extract, Quercetin, Cinnamomum Extract, and Licorice Extract. The first ingredient is a trace element, and the other four are plant extracts. Each ingredient and its dose was chosen through a scientific approach. Scientists at polyDNA, the company that invented and patented the formula, scanned thousands of scientific and medical papers published in various medical and scientific journals, and identified the safest and most effective natural ingredients against latent viruses.
To date, Novirin is the only natural antiviral products on the market with published clinical studies that support its claims.
Normally, drug resistant strains show up in people with a weak immune system. However, researchers found that drug resistant strains were also widespread in individuals with a healthy immune system (2). Thus, there is a need for safe and effective, new antiviral products.
Dr. Mei-Gong Zhong and colleages wrote that "resistant HSV occurs frequently in clinical therapy when using nucleoside analogs, including ACV and penciclovir (PCV) together with their respective prodrugs valacyclovir and famciclovir. Duan et al. revealed that ACV-resistant HSV-1 isolates in immunocompetent patients with herpes keratitis had a relatively high prevalence." (2)
Because the standard drug discovery process failed, there is a growing need to look beyond the traditional chemical route. According to the Jinan University researchers, "Because of recent technological advances, together with unrealized expectations from current lead generation strategies, there is a renewed interest in natural products in the field of drug discovery." (2)
Thousands of studies showed that many natural ingredients work effectively against the herpes virus. As the study authors noted, "Natural products, particularly traditional medicines, which have provided multiple novel drug leads, are known to be an important source of anti-HSV agents." (2)
Interested individuals can view the studies published on the antiviral formula of Novirin here:
http://cbcd.net/Gene-Eden-VIR-Clinical-Study.php
and
http://cbcd.net/Gene-Eden-VIR-Decreases-Fatigue-Clinical-Study.php.
"Novirin is a natural product with a formula designed to help the immune system target the latent herpes virus. We recommend that HSV infected individuals talk to their doctors about this effective herpes remedy." – Greg Bennett, CBCD
References:
(1) Yip ST1, Liu R1, Warrington T1, Webb CW1, Hamilton A1. "Clinical Inquiry: How well do antivirals shorten genital herpes pain duration?" J Fam Pract. 2015 Mar;64(3):190-1.
http://www.ncbi.nlm.nih.gov/pubmed/25789347
(2) Mei-Gong Zhong,ab Yang-Fei Xiang,ab Xian-Xiu Qiu,ab Zhong Liu,*a Kaio Kitazato*c and Yi-Fei Wang*a "Natural products as a source of anti-herpes simplex virus agents"RSC Advances. Published in 2013.
http://pubs.rsc.org/en/content/articlelanding/2013/ra/c2ra21464d#!divAbstract
(3) Polansky, H. Itzkovitz, E. Gene-Eden-VIR Is Antiviral: Results of a Post Marketing Clinical Study. Published in September 2013.
http://www.scirp.org/journal/PaperInformation.aspx?PaperID=36101