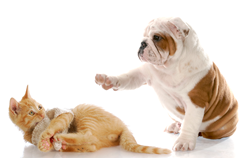 Vetsec exists to make life easier for Vets and to help the UK's veterinary practices continue to provide first-class customer service to customers and their pets
(PRWEB UK) 8 April 2015
When the phones are ringing, and there's a queue of anxious pets and their owners waiting at reception, policing the waiting room is a full time job.
Vetsec is the UK's first dedicated front line support service designed exclusively for the veterinary sector. Created to allow veterinary practices to benefit from a professional virtual veterinary reception team and the services they provide, without the associated costs and demands of employed staff, Vetsec is already making an impact on the vet industry. The Vetsec service was well received at its official launch at the 2014 London Vet Show and Business Development Manager Emma Day says the industry is ready for outsourced support services.
"Vetsec was originally born out of the idea of helping veterinary practices deal with what can sometimes be hostile waiting rooms, where animals not renowned as friends have to share a confined space," says Emma. "Fighting like cats and dogs is well-worn line, but any number of animals can make each other feel uncomfortable, especially when they're feeling poorly and therefore not at their most sociable.
"Veterinary reception staff play a huge role in keeping their waiting rooms as stress-free as possible, which becomes a considerably larger challenge when they are snowed under with telephone calls and waiting patients. The Vetsec service takes the strain; our trained staff can take calls, manage appointments and deal with prescription requests, leaving the reception team free to take care of patients."
The Vetsec service is available seven days a week on a 'pay as you use' basis and can be implemented to cover overflow calls at busy periods, out of hours or to cover holidays and staff absences. Vets can also take advantage of additional services including administration, social media and e-marketing and outbound calling, all at affordable rates.
"Vetsec exists to make life easier for Vets and to help the UK's veterinary practices continue to provide first-class customer service to customers and their pets," concludes Emma. "By taking these small tasks off their hands, even only during busy periods, Vetsec can make a huge difference to the functionality of a veterinary practice."
Vetsec will this week be exhibiting at British Small Animal Veterinary Association (BSAVA) Congress. The industry leading event, including a programme of lectures delivered by world renowned speakers, taking place at Birmingham's Barclaycard Arena from Thursday 9 April to Sunday 12 April 2015.
For more information about Vetsec and its range of veterinary support services, visit http://www.vetsec.co.uk or call 0333 800 0025