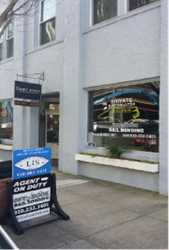 Off the Hook Bail Bonding is a professional service and at the most unfortunate time of need. They are willing to assist you in any form to get you back to work and with your family.
Wilmington, North Carolina (PRWEB) March 26, 2015
The bail bondsmen with Off the Hook Bail Bonds have been serving Wilmington NC and surrounding counties since 1997. Recently this bail bonding company decided to combine its resources with Lighthouse Investigative Services to offer their bail bonding clients with professional criminal investigative and research tools to assist with their criminal charges or witness statements. The new Wilmington NC location is only a block from the New Hanover County Courthouse so bail bonds can easily be completed at the office or at the courthouse. With their new website Offthehookbail.com, all forms needed to complete a bail bond are able to be filled out and electronically signed from a computer or even a Smartphone making bail bonds easy for their clients and giving them an edge over their competitors.
With Wilmington NC's warm beach location it has been a favorite spot for many tourists and college students each year. Sometimes good people find themselves in bad situations and get arrested. When someone you know has been arrested, getting them out of jail can be a very traumatic experience. The last thing you want to do is stress about the high bail bond amount to get a friend or loved one out of jail. When you search online for bail bonds in Wilmington NC be sure to go with a reputable bail bonding company. Off The Hook Bail Bonds is poised to be the premier Wilmington NC bail bonds company!