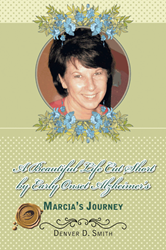 Smith's daily insights emphasize not only the possible timelines, but also the effects on both the caregiver and the person experiencing Alzheimer's
COLUMBUS, Ga. (PRWEB) March 26, 2015
Every 67 seconds someone in the United States develops Alzheimer's, according to the Alzheimer's Association. In 2014, 200,000 victims were younger than 65.
Devoted husband Denver D. Smith learned his wife, Marcia, was diagnosed with early-onset Alzheimer's when she was just 49. Over the course of 13 years, he cared for her in their home and provided the daily support she needed as a mother and wife coping with such a debilitating disease.
Providing Alzheimer's caregivers with a detailed physical and emotional timeline of the illness, Smith's new book, "A Beautiful Life Cut Short by Early Onset Alzheimer's," chronicles their journey through daily reflections that detail Marcia's battle.
"I found similar stories by other caregiving spouses to be helpful in understanding how this disease affects the individual, family and friends," Smith said. "Being able to see how well our situation had tracked theirs at certain points gave me an idea of what to expect in the future."
In an effort to assist others in the same way and help them better prepare for each difficult stage, Smith's daily insights emphasize not only the possible timelines, but also the personal effects on both the caregiver and the person experiencing the illness.
"A Beautiful Life Cut Short by Early Onset Alzheimer's: Marcia's Journey"
By: Denver D. Smith
ISBN: 978-1-4907-4783-5
Softcover: $21.10
Hardcover: $31.10
E-book: $3.99
Available on Amazon, Barnes & Noble and Trafford.com.
About the author
Denver D. Smith resigned from his job as a consultant in the paper industry in 2007 to be the caregiver for Marcia. Smith is native to Georgia, and he currently lives in Smiths Station, Alabama. Smith has a large family, including six living children and stepchildren, 15 grandchildren and nine great grandchildren.
# # #