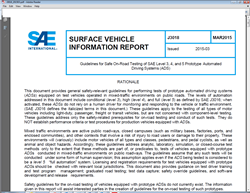 States that have approved testing these vehicles are developing guidelines, but they are mostly around legal issues. J3018 gives very specific guidelines on how the tests should be carried out. - Steven E. Underwood, the vice-chair of the committee
WARRENDALE, Pa. (PRWEB) March 26, 2015
SAE International has created the first-ever safety guidelines for on-road testing of prototype models of fully automated vehicles.
The guidelines were released as Audi and Mercedes recently unveiled its self-driving car at the Consumer Electronics Show in Las Vegas. The car drove without a driver from San Francisco to Las Vegas.
J3018 Safety Guidelines for the On-Road testing of Prototype Models of Fully Automated Vehicles is an important document as more fully automated vehicles with Advanced Driver Assistance Systems (ADAS) will be tested on public roads.
"This is the first document to provide this level of guidance," said Steven E. Underwood, the vice-chair of the committee. "States that have approved testing these vehicles are developing guidelines, but they are mostly around legal issues. J3018 gives very specific guidelines on how the tests should be carried out."
The document provides guidelines for the safe conduct of on-road tests of vehicles equipped with prototype conditional, high, and full ADAS. The purpose of the document is to provide information and guidelines for automotive designers, test engineers and policymakers concerned with safe, on-road testing of the vehicles.
The regime of road testing for a prototype will depend on the intended level of automation and the targeted capabilities. A prototype testing on a public road is presumed to have passed laboratory and closed-course testing.
"The report is important because the testing of automated, vehicle controls - ranging from the driver letting go of the wheel to acceleration to braking - is relatively new," said Underwood. "We are heading into uncharted territory, so testing these vehicles on public roads is quite a challenge, and with very little precedent. We found it important to lay out a set of guidelines that will help not only the engineers who are developing these systems, but public officials who are concerned about what is appropriate on public roads."
The guidelines cover such areas a driver training, and test driver capabilities and skills. "We want to make sure we don't put other drivers at risk while on a public road," Underwood said.
SAE International is a global association committed to being the ultimate knowledge source for the engineering profession. By uniting over 137,000 engineers and technical experts, we drive knowledge and expertise across a broad spectrum of industries. We act on two priorities: encouraging a lifetime of learning for mobility engineering professionals and setting the standards for industry engineering. We strive for a better world through the work of our philanthropic SAE Foundation, including programs like A World in Motion® and the Collegiate Design Series™.