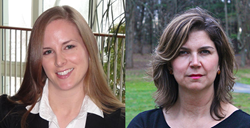 Phoenix Marketing International is continuing to grow the team and we are adding a number of highly experienced research executives to meet our clients' ever expanding research needs.
Rhinebeck, NY (PRWEB) March 30, 2015
Phoenix Marketing International (PMI), a leading market research firm, today announced the addition of two senior research executives. Ina Mier y Terán Sheppard is coming on as SVP and Managing Director of Qualitative Research and Olivia Ester joins the team as VP of Financial Services. Ina will report to Neal Chambliss, President of Custom Financial Services and Olivia will report to Lane Mann, President Syndicated Research.
"Phoenix Marketing International is continuing to grow the team and we are adding a number of highly experienced research executives to meet our clients' ever expanding research needs," said Neal Chambliss, President of Custom Financial Services. "Ina and Olivia have experience and capabilities that span a number of markets and research techniques on both the quantitative and qualitative sides of the business."
Ina will work directly with the financial services group and also collaborate with other PMI teams across multiple disciplines. Her research experience covers a wide range of industries, including financial services, food service, airline/travel, packaged foods, household appliance, media/entertainment, telecommunications, beauty aids, healthcare, alcoholic and non-alcoholic beverages and consumer electronics.
Prior to joining Phoenix Ina started and managed her own market research firm, I N A Research. Before I N A, she worked at C&R Research and helped launch the C&R LatinoEyes division. She has conducted numerous focus group interviews, ethnographies and one-on-ones with the general market and U.S. Latinos throughout the course of her career. She also worked with Market Development Inc. and KRC Research and Consulting. Ina holds a BA in communications from Macalester College in St. Paul, Minnesota.
Olivia will oversee further development of key client accounts. She plans to focus on the enhancement of syndicated programs to ensure relevance to the business interests of subscribing clients as well as currency of subject matter to reflect the evolving financial services category overall.
Olivia joins PMI from the Nielsen's Innovation Practice, where she leveraged a platform powered by evolutionary algorithms and predictive analytics to provide insight that doubled clients' in-market product success rates. Before Nielsen, Olivia managed the primary research department at Digitas in Boston, leading both quantitative and qualitative projects to generate data and meaningful insights to help transform brands for the digital age. Her experience also includes a role as a Market Research Analyst at The New England Journal of Medicine, where she executed both domestic and international research among a physician audience. Following her graduation from Bates College (plus professional training at the Burke Institute, Moderator Boot Camp, Web Usability training, and Microsoft), Olivia was a Research Associate at Forrester Research in Cambridge, Mass. In addition to her expertise in the financial services industry, Olivia also has extensive experience in the B2B, FMCG and healthcare / pharmaceutical industries.
About Phoenix Marketing International
Phoenix Marketing International is a premier global marketing services firm providing its clients with tailored, unique insight into their customers and markets via a wealth of existing proprietary data. Coupled with custom research products and the latest qualitative and quantitative techniques, Phoenix has extensive research experience across the Automotive, Financial Services, Healthcare, Converged Technology and Media, Restaurant, and Travel/Leisure sectors. From the strategic definition of consumer needs to effective marketing program implementation, PMI provides profit-driven market solutions and is committed to maximizing a client's Return on Marketing Investment (ROMI) by leveraging the ability to attract and retain new business through cost efficient data acquisition and statistical modeling techniques. Founded in 1999 by Chairman and CEO, Allen R. DeCotiis and President, Martha Rea, Phoenix Marketing International has established its global presence with offices in major locations such as New York, New Jersey, Boston, Philadelphia, Raleigh/Durham, Detroit, and London.