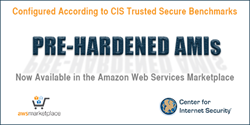 CIS AMIs are cost-effective security solutions.
East Greenbush, N.Y. (PRWEB) March 25, 2015
The Center for Internet Security (CIS) today announced the launch of new CIS resources for Amazon Web Services (AWS). Available as Amazon Machine Images (AMIs) for some of the world's most widely used operating systems, they will allow organizations to leverage cloud-based resources configured according to industry best practice security controls. The CIS AMIs, which are available in the AWS Marketplace for use by any organization that leverages Amazon Elastic Compute Cloud (EC2), are available for six CIS benchmarks-hardened systems, including Microsoft Windows, Linux and Ubuntu.
The CIS AMIs are available on demand on a computer-hour basis and are the only virtual machines available in the cloud that are preconfigured based on CIS' internationally recognized secure configuration recommendations. AMIs are available for the following operating systems:

Ubuntu 14.04 LTS Server
Red Hat Enterprise Linux 6
Red Hat Enterprise Linux 7
Amazon Linux 2014.09
Microsoft Windows Server 2012 R2
CentOS Linux 7
Amazon EC2 Regions where the CIS AMIs are available include U.S. East (N. Virginia), EU (Ireland), Asia Pacific (Singapore), U.S. West (N. California), EU (Frankfurt), Asia Pacific (Sydney), U.S. West (Oregon), Asia Pacific (Tokyo), and South America (Sao Paulo).
"CIS is committed to helping organizations improve their cyber security and we are pleased to make the CIS AMIs available to a broad audience on AWS through AWS Marketplace," said William F. Pelgrin, CEO of the Center for Internet Security. "The need for flexible, affordable and secure resources is urgent, and as more organizations move their business into the cloud, the CIS AMIs are a cost-effective way for entities in the public and private sectors to customize solutions that meet their needs."
"Security is incredibly important to our customers; therefore, it is a number one priority for us," said Stephen Schmidt, Chief Information Security Officer, Amazon Web Services, Inc. "By working with CIS, these security best practice controls are now readily available in AWS Marketplace to help our customers protect their data."
CIS has been producing industry recognized secure configuration settings for nearly 15 years, and currently offers more than 80 benchmarks across a broad array of technologies, including desktop and server operating systems, mobile devices and web browsers, all of which are available for free in PDF format on the CIS website.
For more information about the CIS AMIs or other resources, email contact(at)cisecurity(dot)org or visit CIS online at http://www.cisecurity.org.
About the Center for Internet Security
The Center for Internet Security (CIS) is an international nonprofit organization focused on enhancing the cyber security readiness and response of public and private sector entities. CIS produces consensus-based secure configuration benchmarks and content, and maintains and promotes adoption of the Critical Controls. CIS serves as the key cyber security resource for state, local, territorial and tribal governments, including chief information security officers, homeland security advisors and fusion centers. CIS is committed to elevating the competencies of the cyber security workforce, and to the development of policies, products and resources that help our partners achieve security goals. To learn more please visit cisecurity.org or follow us at @CISecurity