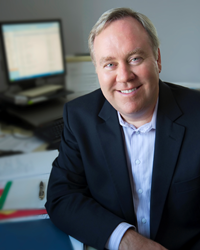 There are so many remarkable leaders that I can think of in this community, so to be recognized as one of them is a great honor.
Appleton, WI (PRWEB) March 25, 2015
Serving as the co-founder of Cypress Benefit Administrators and its leader since 2000, Tom Doney was recently named as CEO/Executive of the Year.
This honor comes from Post-Crescent Media of Appleton, Wisconsin, where Cypress is headquartered, and was announced as part of the publication's 60th Annual Report.
"There are so many remarkable leaders that I can think of in this community, so to be recognized as one of them is a great honor," Doney said.
In the business of third party administrators (TPAs) and self-funding, Cypress first started as a two-person, out-of-home endeavor in 2000. Early on, Doney and co-founder Marsha Phillips began focusing on medical claims review to identify any discrepancies in billed statement charges, and ultimately, uncover any cost savings opportunities. This led to a niche subsidiary which is now known as the Argus Claim Review division.
Today, Cypress is a full-service TPA that is staffed by more than 100 people and operates from five different locations across the United States.
"I don't think it's so much about what it is you're doing, but more of why you're doing it and if you really believe in it," Doney explained. "In the case of Cypress, scrutinizing health claims became a pivotal part of our business." He continued, "We've been focused on helping our employer-clients save money and control their employee benefit costs from day one and continue to expand these efforts in every area."
As far as savings realized, in 2014, Cypress clients averaged just a 2.68% increase in health plan costs compared to the national average of 5.4%. Considering the eight-year average, Cypress rates have gone up only 2.03% annually while national rates have risen by 6.9%.
When asked about the things CEOs should be doing in terms of business, Doney's response (video interview) included surrounding yourself with the right people.
"We've been fortunate to build such a strong team," he said. "Our customers come first and Cypress staff members go out of their way to deliver on that philosophy."
Cypress averages a 94% customer retention rate which is quite high given the amount of turnover in the industry. The firm has been experiencing 20-25% growth each year since 2010 and currently serves as the TPA for more than 300 businesses nationwide. Cypress is also the recipient of a Gold Well Workplace Award through the Wellness Council of America and its Wellness Council of Wisconsin affiliate.
In addition to CEO/Executive of the Year, Post-Crescent Media and its 60th Annual Report also designated honors in categories that included Small Business, Entrepreneur and Family-Owned Business of the Year. Post-Crescent Media serves the Fox River Valley region of Eastern Wisconsin, a metropolitan area of more than 250,000.
A privately held company headquartered in Appleton, Wis., Cypress Benefit Administrators has been pioneering the way toward cost containment in self-funded health benefits since 2000. The third party administrator (TPA) is the country's first to bring claims administration, consumer driven health plans and proven cost control measures together into one package for companies ranging from 50 employees to thousands of employees. It serves employer-clients across the U.S. with additional locations in Portland and Salem, Ore., Omaha, Neb. and Denver, Col. For more information on Cypress and its customized employee benefits, visit http://www.cypressbenefit.com.