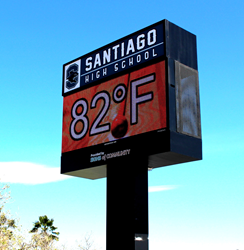 We are ecstatic to not only communicate important messages to our student body and staff, but to play a strong role in keeping the community informed and involved.
Corona, CA (PRWEB) March 26, 2015
Located in the Corona-Norco Unified School District, Santiago High School provides a quality academic program to their students and embraces their unique, unified culture. The school adequately prepares their students for college and a 21st century workforce, while ensuring they are active in the community. With an abundance of activities taking place in the school, the school district worked with Signs of Community to provide Santiago High School with an announcement center that enhances their communication and increases community awareness.
Signs of Community (SOC) is a non-profit organization that helps cities and school districts set up outdoor community announcement centers in order to keep communities informed about events, updates, and alerts, with the ultimate mission of boosting community involvement. Local businesses contribute to make these announcement centers a success. SOC assumes full financial responsibility to provide, maintain, and operate the announcement centers, ensuring they are functioning and displaying strong, dynamic content that alerts and informs the community.
"The community announcement centers are a successful way to get important information distributed to your community quickly and effectively," stated Ivan Perez, SOC Program Director. "This was a tremendous project for such a great school, full of driven students and parents that want to stay involved. The announcement center will complement the other forms of communication they have in place, as well as provide an outlet to display community-driven messages."
Santiago High school was ranked in Newsweek Magazine's annual ranking of the top 500 schools in the nation. They certainly live up to this reputation, as they provide many opportunities to their student population.
Among the many extracurricular activities the school offers, the school launched a TV show, The Bite, which students host and produce themselves. This program gives students the opportunity to explore a career in media, while encouraging their creativity. In the show, the students share world and local news, politics, important school updates, and even college preparation tips.
Link is a leadership organization where upperclassmen support freshmen in their first year of high school. Not only does this program teach leadership skills to young students, but it also empowers incoming freshmen to succeed in high school and beyond.
Santiago High School recently celebrated What If Week. During this week, students addressed common adolescent issues and visited questions such as, "What if there was no Hollywood?" and "What if we all got along?". On Unity Day, students came together on campus and participated in bonding activities to help boost self image and explore new friendships.
"The new sign is an eye-catcher that will definitely capture our community's attention," stated Lindsey Rosa, Assistant Principal of Activities at Santiago High School. "We have a lot going on in our school, so the sign is going to help tremendously. We are ecstatic to not only communicate important messages to our student body and staff, but to play a strong role in keeping the community informed and involved."
The school will be managing their announcement center, with the cloud-based software, SM Infinity. When a new graphic is needed for the sign, the school can simply request a graphic through SM Infinity's team of graphic designers. Now, located at the edge of S.H.S., is a new community announcement center, brightly lit, with dynamic messages that stand out and inform the community.
With an involved community of students, staff, and parents, Santiago High School will utilize their new community announcement center to its full potential and will continue to ensure their students have a successful future ahead of them.